Old School Death/Thrash Metal with a modern and wild outfit is what depicted by this Chilean quartet!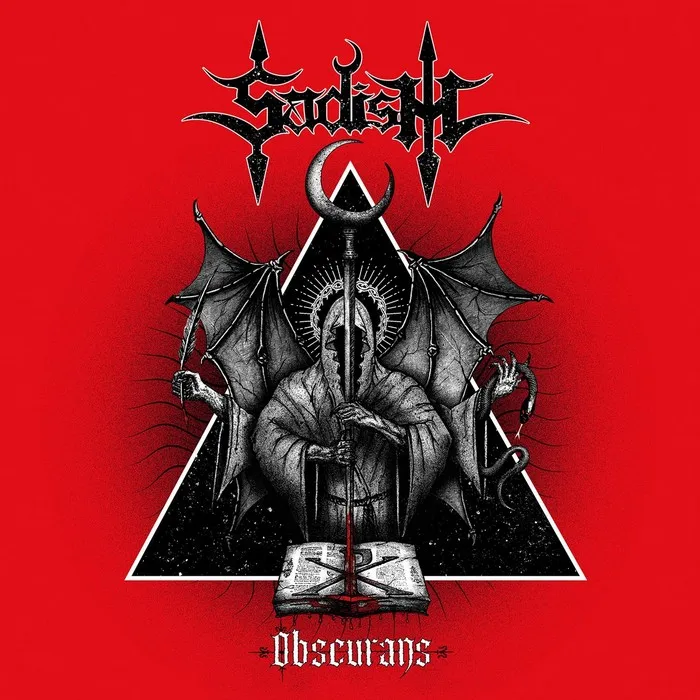 It's hard for South American acts to earn a life playing music, harder than anyone can think, because the high cost of life forces the musicians to have formal works out of the scene, and it's not unexpected (and nor funny) to see South American fans praising European and North American acts, and giving balls to the fellow compatriots bands (as an example, SARCÓFAGO can be praised today, but in the 80s, many fans never gave them the praise and value they deserved). But it doesn't mean that good bands can arise on southern lands, as can be heard on "Obscurans", the new album of the Chilean quartet SADISM. It can cause a new Earthquake on Santiago easily! It's a form of Death Metal from the 90s mixed with many different influences (from Death/Black Metal to Thrash/Death Metal, as can be depicted clearly by the elements of "Diabolution").
And to have such set of songs of a band with more than 30 years of experience is something amazing, because they're not living in the past, nor resting on what they already did, but are here with an album to torn ears apart to pieces with a brutal (yet technical and well-worked) music, full of energy and personality. And the better comparison to say: it's like a solid wall of music! Israel Yévenes and Juan Pablo Donoso (one of the quartet's founders, and a member of the legendary Chilean PENTAGRAM) are the producers of "Obscurans" (with Juan taking care of the recordings, mixing and mastering as well). It's a kind of blend between some features of the past (due the crude touch on the sonority, what means that they wanted something organic), but with the defined and impacting sound demanded today. And it's really an excellent result. Oh, I almost forgot: the artwork of Patricio Saavedra and Ricardo Roberts for the cover is really fitting on what the band created on the musical side.
These guys aren't kidding when Death Metal is the matter to be discussed, so be careful of your ears and necks. Especially when Death Metal bullets as "Exsanguination" (an excellent and technical song that bears the aggressiveness of the genre with refined Death/Thrash metal technical approach on the rhythms, especially on bass guitar and drums), "On Your Knees" (it's mainly composed of slow paced tempos, catching the hearer attention, with excellent guitar riffs and arrangements), "Diabolution" (a classic Death/Thrash Metal song, but with emphasis on hooking technique, and with astonishing screams and grunts), "Because We are Rotten to the Core" (the piledriving strike of bass guitar and drums on the rhythms is really great, and what nasty and sickening guitar solo), "Ars Goetia" (where some different and unusual elements can be heard being cooked in their Death/Thrash Metal cauldron), and "Made Of Sulfur" are being spread. And for those who prefers physical media there are two gifts of the band: "Nyctophile" and "When the Christians Lie" (exclusive bonus tracks for CD version).
It's great to hear a veteran as SADISM still as active as sick today after all these years, and be prepared: "Obscurans" shows a band that is far from living off its past.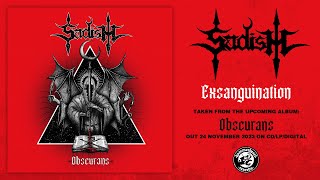 When clicked, this video is loaded from YouTube servers. See our privacy policy for details.
"
Obscurans

" Track-listing:

Exsanguination
On Your Knees
Diabolution
Lower Astral Entities
Because We are Rotten to the Core
Freewill Archangels
Ars Goetia
The Void Devourer
Parousia
Made Of Sulfur
Nyctophile (CD Bonustrack)
When the Christians Lie (CD Bonustrack)
Sadism

Lineup:


Ricardo Roberts - Vocals
Gabriel Hidalgo - Guitars
Juan Eduardo Moore - Bass
Juan Pablo Donoso - Drums