Sepultura, Marduk and more at Manor Museum of Antanas Smetona (2022)
Manor Museum of Antanas Smetona

(

Ukmergė, Lithuania

)
Sepultura, Marduk, Vltimas, Heidevolk, 1914, Wind Rose, Broliai, Romuvos, Horna, Year Of The Goat, Entropia, Ukanose, Sisyphean, Road Kill, Bloody Heels, Black Citrus And Many More
After the world has finally pressed the play button again it feels like we might […]
By Erika Kuenstler and Sarunas Dreseris
•
June 23, 2022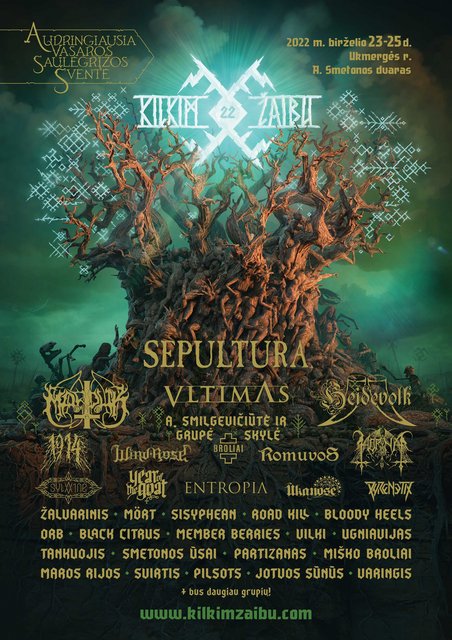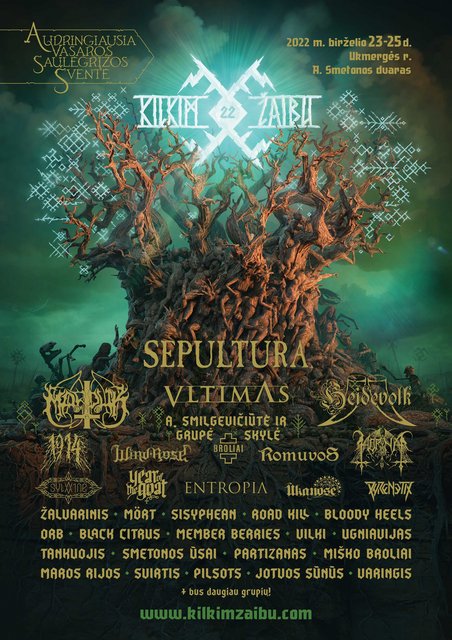 After the world has finally pressed the play button again it feels like we might finally be getting back on some track to normalcy. At least considering the festival season, it feels like you could suddenly drown in the sea of choice after the drought of the previous few years. So, allow me to be your guide through this flood of choices and point you towards a hidden gem that you might not yet know about -
KILKIM ŽAIBU
, tucked away in the verdant heart of Lithuania.
Taking place between the 23rd and 25th of June, this year sees KILKIM ŽAIBU back for its 22nd time, and despite being one of the biggest festivals in the Baltic countries, it is not very well-known in central and western Europe. However, those that do dare to venture to this eastern edge of the Europe find themselves quickly ensnared by the festival's enchanting atmosphere. You see, this is one of the very few festivals around that isn't just about the music: it's about old Baltic pagan traditions, history, perfect atmosphere, nature and so much more.
Having been one of the last countries to convert to Christianity, pagan traditions still have a stronger foot-hold in Lithuania than they do in other countries. As a result, one of the country's biggest celebrations of the year is the summer solstice. And it is exactly around this celebration that KILKIM ŽAIBU has built itself. The festival is steeped in old traditions, featuring bonfires, medieval markets, pagan reenactors, and ancient Viking-style games. But this year also marks a big change in KILKIM ŽAIBU history. After many summers it will be moving to a new location: The Manor Museum of Antanas Smetona in Ukmergė. The manor is of cultural and historical significance, being the summer residence of the first president of Lithuania, and this unusual atmosphere will help showcase some of Lithuania's more recent history. So, for the very first time, this year will also see history clubs from the interwar period bringing more recent history to life.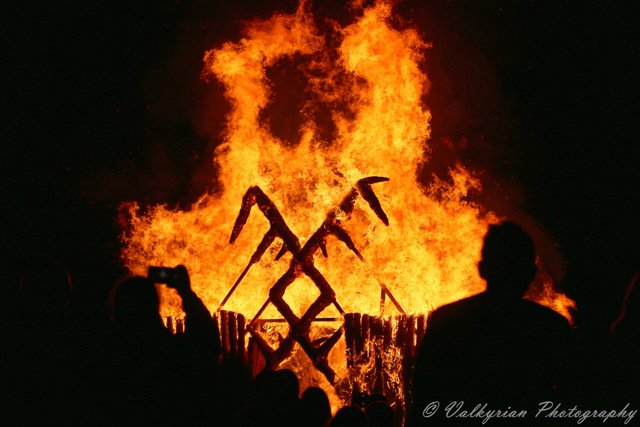 Not only does this stunning location show off Lithuania's rich cultural history, but it also features a spacious camping ground, a nearby lake in which to cool off, a metal market, and even some saunas! The new location should make the trip easier, as Ukmergė is located more centrally in Lithuania. In terms of getting to the festival, the easiest option is to come by car, with car rentals being available at all major airports. However, car-sharing is also an option: keep an eye on the
Kilkim Žaibu
facebook group, as there is high probability of finding people that might have an open spot in their car. For those coming by car, there are three types of parking available: one is a free parking zone, located at the edges of the festival grounds. The other is a paid option, which allows you to park your car closer to the campsite. The third option, the VIP, allows you to park on the campsite, allowing you to camp next to your car for a larger fee. However, if driving is not your thing, there is also the option of organised buses headed to the festival. Details for those will be announced closer to the festival date. One thing to keep in mind though is that there is a complete ban on own-bought alcohol and glass containers at Lithuanian festivals, so keep that in mind while packing. But don't worry: not only does the festival have a large selection of alcoholic beverages available (including 20 different types of beer alone), the pricing of drinks and food is also very reasonable.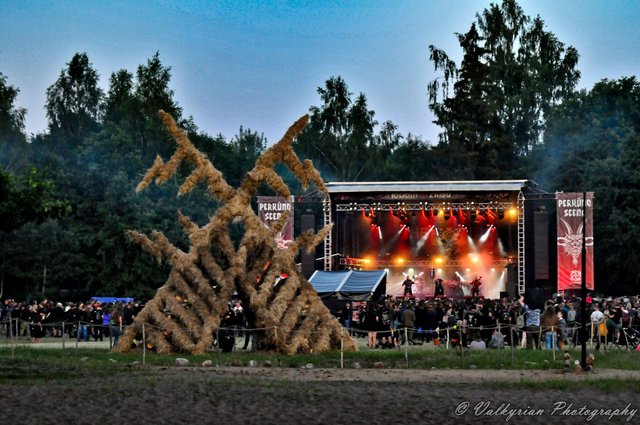 Now, what would a festival be without music? This year features a very diverse line-up, with a whole host of bands that will not only fit in perfectly with this very special and magical surrounding, but also have something for everyone to completely enjoy. Headlining the festival, we have none other than the Brazilian veterans of metal,
SEPULTURA
! For those who prefer it dark and heavy,
MARDUK
will be sure to leave you with a bang-over. And for those on the folkier side of the spectrum,
HEIDEVOLK
is a must see.  Another absolute highlight this year will undoubtedly be
WIND ROSE
. Anybody who was at
KILKIM ŽAIBU
festival in 2019 will tell you that the song
"Diggy Diggy Hole"
(originally done by
YOGSCAST
, but covered by
WIND ROSE
) was pretty much the anthem of the festival, playing multiple times per night at the after-parties. Special mention must also go to
1914
, a blackened death metal band hailing from Ukraine. Although currently doing what they can to defend their country's freedom, the band have promised an absolutely bombastic show, which will definitely not be one to miss.
So, if you're a metal-head who is bored of the standard, run-of-the-mill festivals, and would like to see a festival that offers so much more than just music, then look no further than KILKIM ŽAIBU, an undiscovered gem which combines the best of both historical and musical perspectives. Be sure to get your tickets soon! Metal Temple looks forward to seeing you there!
For photos from KILKIM ŽAIBU 2019, check out Valkyrian Photography's shots here.