Sebastian Bach, Kobra And The Lotus and more at The Diamond Ballroom (2019)
The Diamond Ballroom

(

Oklahoma City, OK, USA

)
Sebastian Bach, Kobra And The Lotus, The Dead Aces
SEBASTIAN BACH roared into Oklahoma City this past Friday night and initiated an 80's metal […]
By Dave Nowels
•
October 18, 2019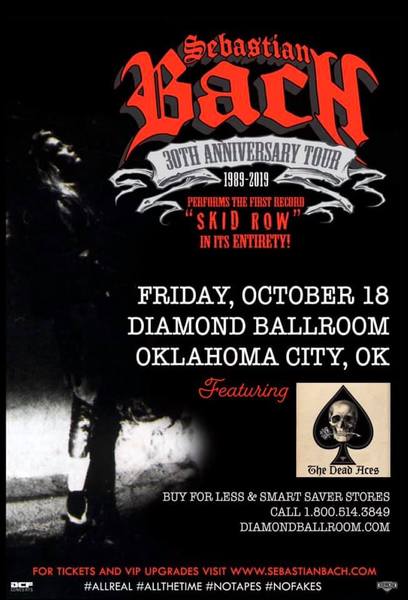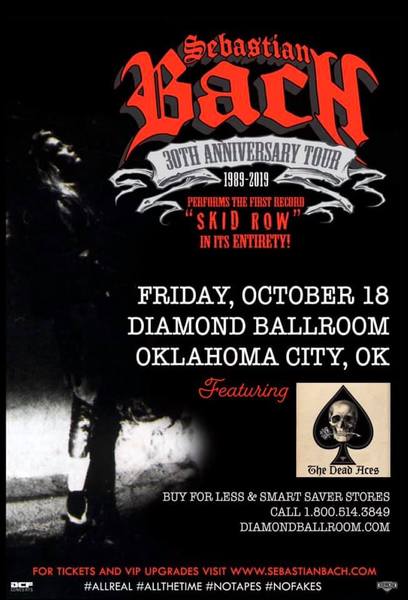 SEBASTIAN BACH
roared into Oklahoma City this past Friday night and initiated an 80's metal revival at
The Diamond Ballroom
, and it was an absolute blast. Seriously, it was a lot of fun in every possible way. Great music, great people watching and an overall great vibe on the whole night. I saw more vintage 80's vintage concert tees on this night than I've seen all year. Shirts featuring bands you don't often see being worn much these days. Bands like
KIX
,
METAL CHURCH
,
RATT
,
Y&T
and so many more! Add to all that , the absolutely beautiful Metal maidens of Oklahoma City were out in full force to see and admire their 80's heartthrob himself, Mr.
Sebastian Bach
. A great night indeed!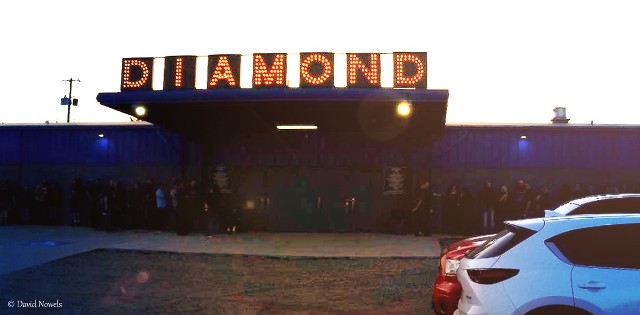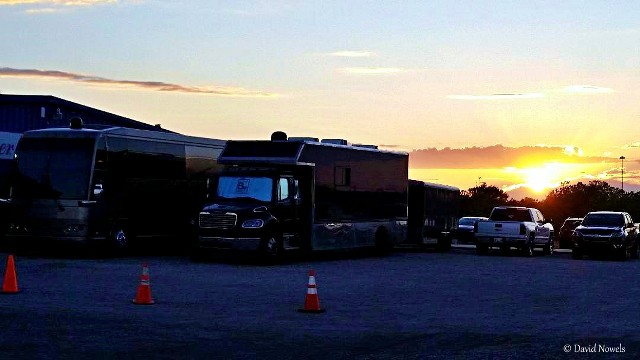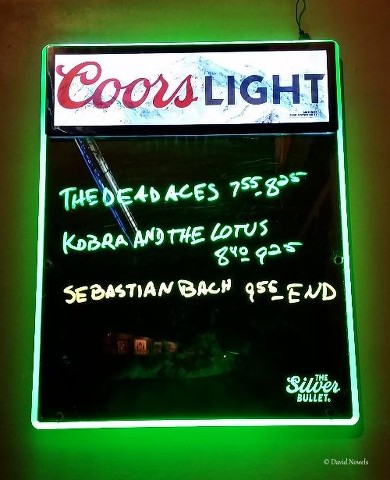 SEBASTIAN BACH is in the midst of what has to be a grueling 45 date tour celebrating the 30th anniversary of SKID ROW's self-titled 1989 debut album. The tour finds Bach performing the album in it's entirety, as well as a few other choice cuts. ("Tornado". "Monkey Business", "Slave To The Grind" etc.) Touring with Bach is a stellar all-star band comprised of, Rob De Luca (UFO, SPREAD EAGLE) on bass, Brent Woods (WILDSIDE) doing the work of two men, on guitar and the incredible Bobby Jarzombek ( HALFORD, FATES WARNING) manning the drums.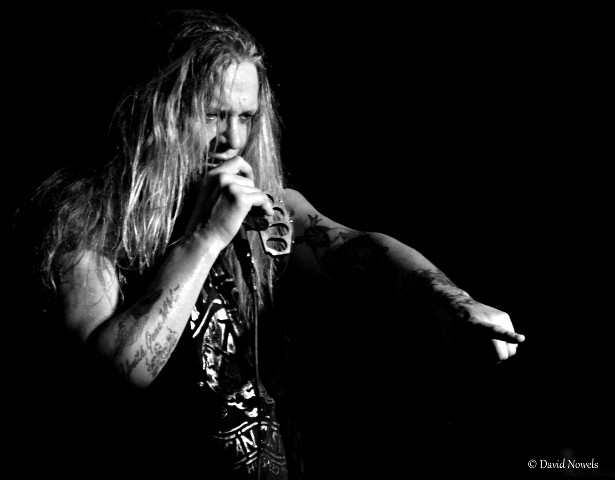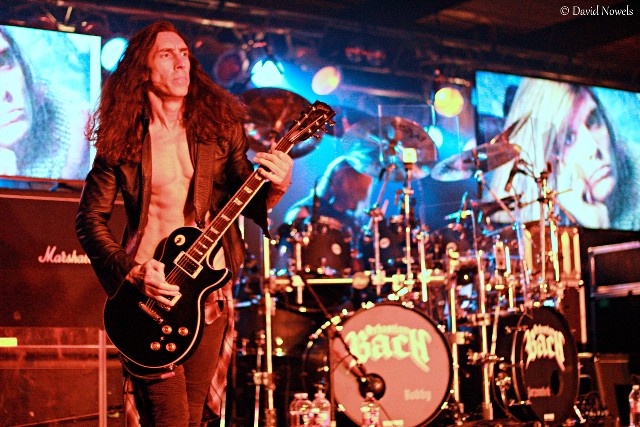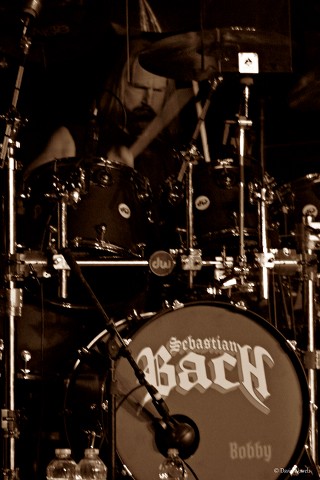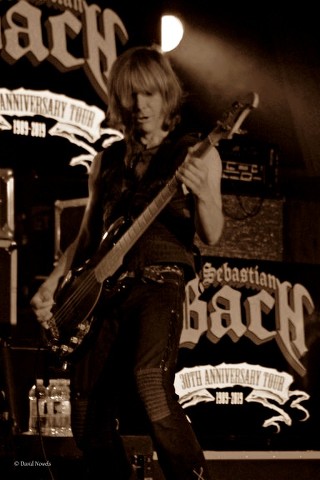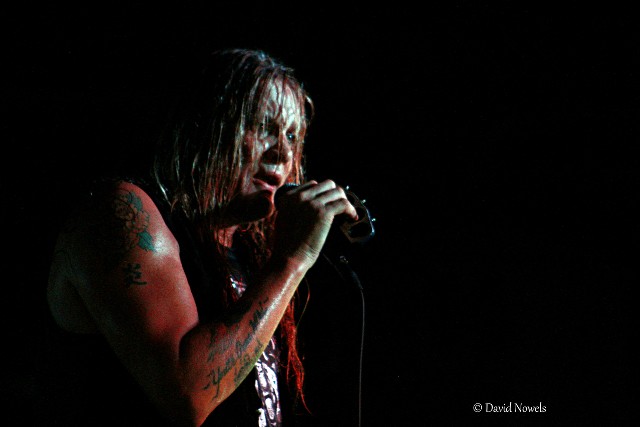 Bach and band took us all back to a simpler time. One where many of those in attendance were still in high school, or like myself, fresh out and trying to figure out where to go next and what to do once we got there. They were good times, and on this night Bach delivered us there for an hour and a half or so, letting us forget adult responsibilities, even if only so briefly. It was also great to see the number of younger fans in the audience, many of which were attending with their parents for a rare glimpse into that time capsule.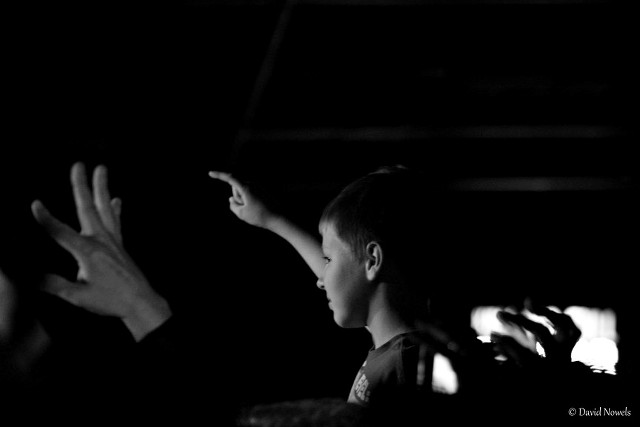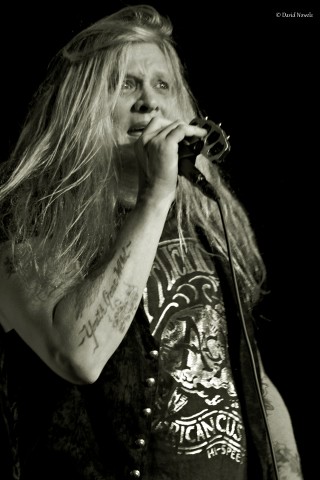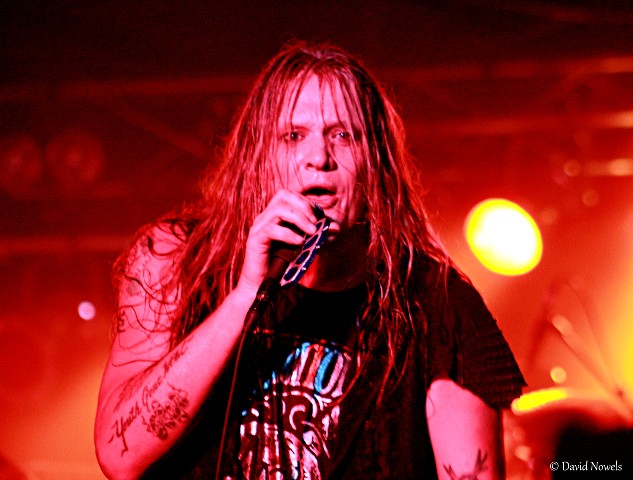 Bach has always had a great stage presence, and this night was no different. Joking often about trying to relive the debut album 30 years later at the age of 51, his candor and humor were perfectly delivered throughout the set. Musically, the set was pristine. These men are all the shining example of the consummate professional, and everything from the overall sound to each member's performance was exceptional. The obvious songs garnered the biggest responses, "18 and Life" (listed as "80 and Life" on the stage setlist), "Youth Gone Wild" and "I'll Remember You". Bach might be 51, but his voice is still there as is his boundless energy.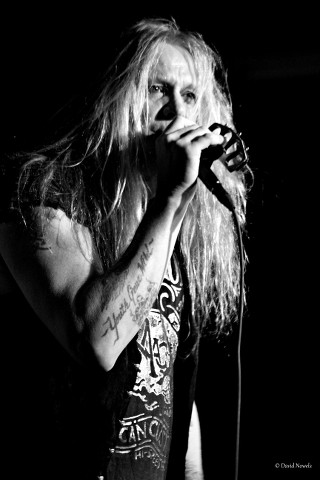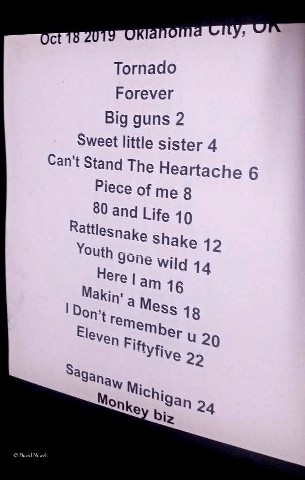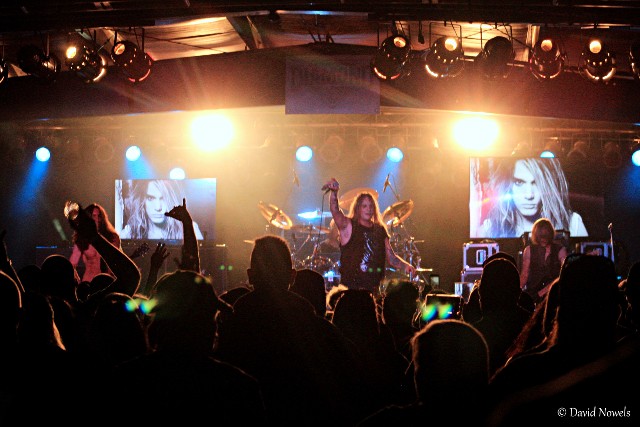 Throughout the set, old photos or video clips of SKID ROW or other 80's contemporary musicians would be displayed on video screens on each side of the stage. Bach, while introducing "I'll Remember You" also made sure to call out some fallen friends such as Vinnie Paul and Dimebag, Lemmy, and even the recently passed Ric Ocasek. The "30th Anniversary Skid Row" tour continues into November. If you have a chance, it's definitely one I'd recommend.
Check dates here:
(this link will open in a new window)" target="_blank" href="http://www.sebastianbach.com/" rel="">http://www.sebastianbach.com/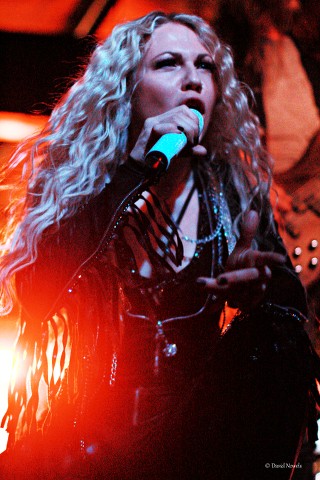 The touring support for Bach was a fun little band called KOBRA AND THE LOTUS. Hailing from Canada, the band debuted back in 2010 with "Out In The Pit" and have since released five more albums, with their newest, "Evolution" being released this past September on Napalm Records. Just a year before, our own METAL TEMPLE contributor, Brad Karr interviewed the band back in 2018 for their album, "Prevail II". You can check out that great interview here: http://www.metal-temple.com/site/catalogues/entry/musicians/kobra-and-the-lotus_4.htm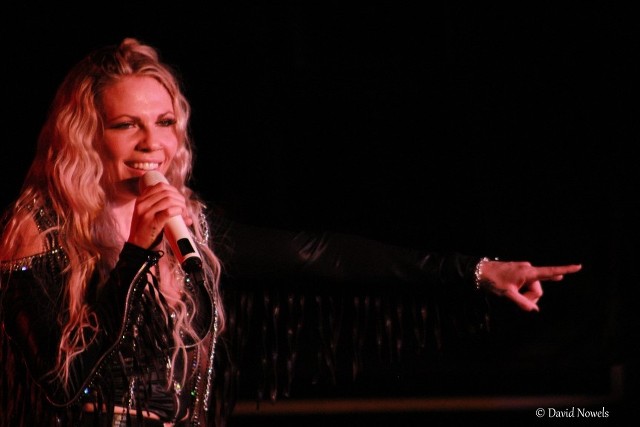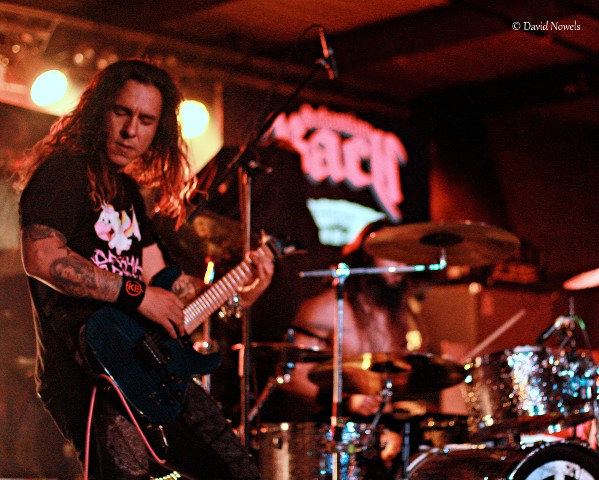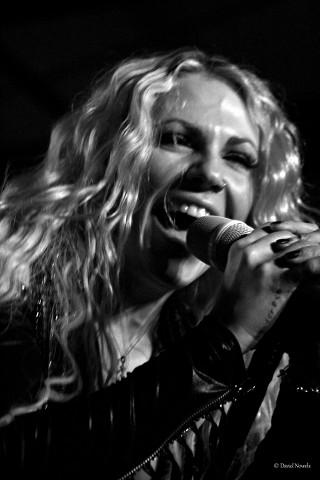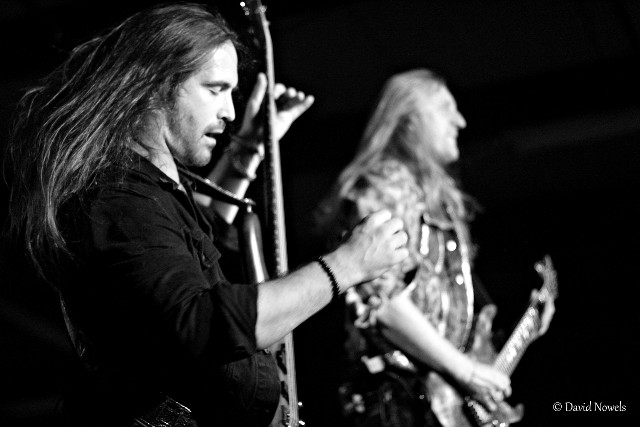 KOBRA AND THE LOTUS (KATL) are comprised of, the enchanting songstress powerhouse, Kobra Paige on vocals, the duo of Jasio Kulakowski and Ronny Gutierrez shredding guitars, Brad Kennedy on bass and Marcus Lee on drums. KATL delivered a high energy set of Metal that while achieving a more modern feel, still appealed to the predominantly more retro leaning crowd. That speaks well to the band's songs, musicianship and ability, and reinforces why they've shared the stage with bands such as JUDAS PRIEST, DEF LEPPARD, KISS, BUCKCHERRY and more over the years.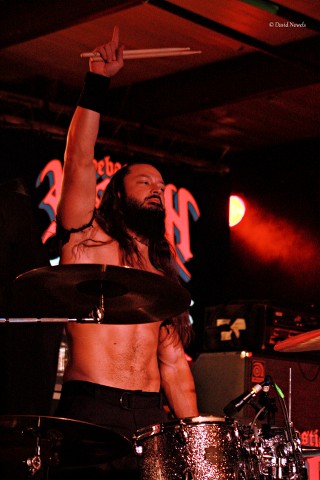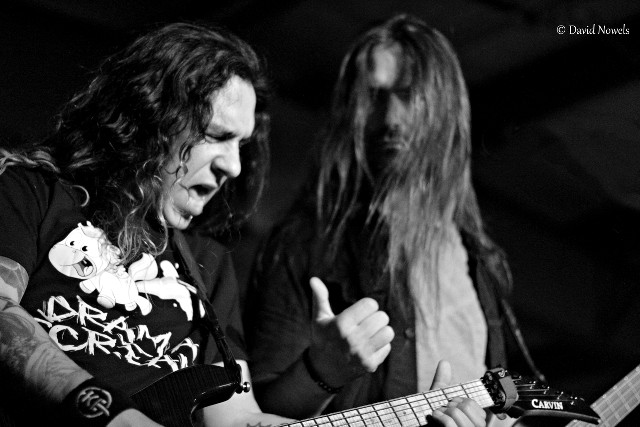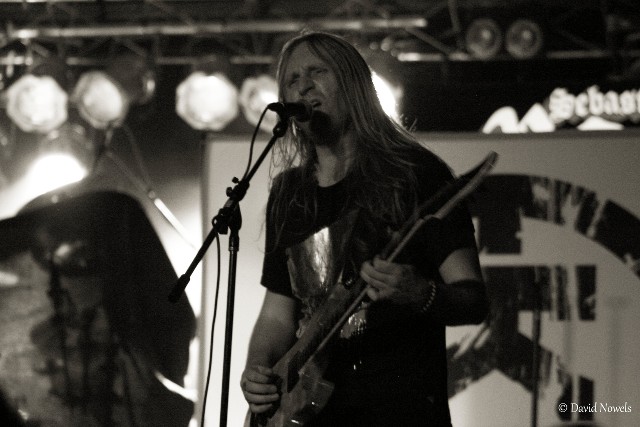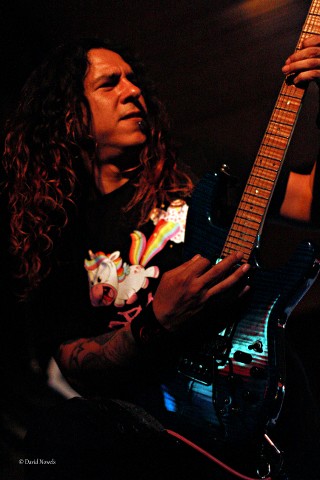 Female vocalists and musicians are much more than just "eye candy" these days. Women like Tatiana Shmailyuk (JINJER), Raven Black (RAVEN BLACK BAND), Skye Sweetnam (SUMO CYCO) and Kobra Paige are establishing themselves as the future of Metal, and I think it's been a long time coming. Hell, how great of a tour would those four bands have together? Definitely check out KOBRA AND THE LOTUS:
(this link will open in a new window)" target="_blank" href="https://kobraandthelotus.com/" rel="">https://kobraandthelotus.com/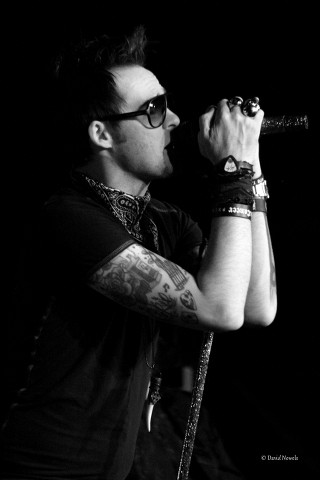 Kicking things off and warming up the crowd was Oklahoma's own, THE DEAD ACES. Playing a set of well chosen covers, THE DEAD ACES did a crazy good job setting the evening's tone. Truth be told, I'm not usually a fan of cover bands, but tonight, they won me over. The quartet consists of Dusty Rose on vocal and guitar, Billy Bogges on lead guitar, Jay Melchor slappin' the bass and Marko Ramsey crushing the drums.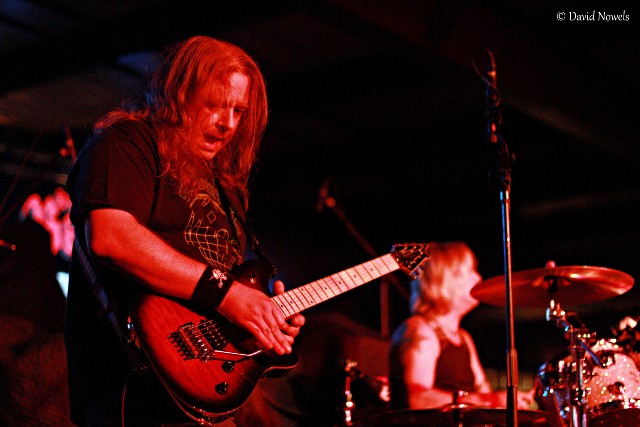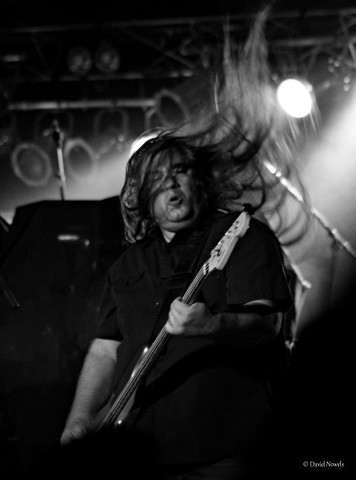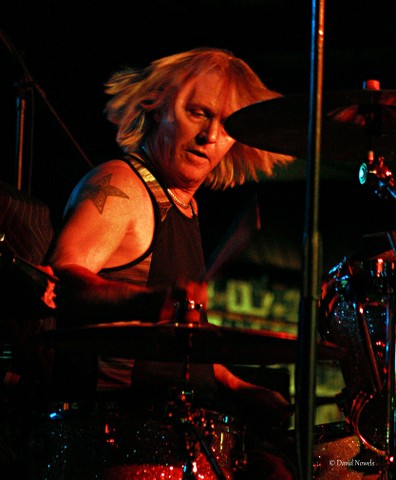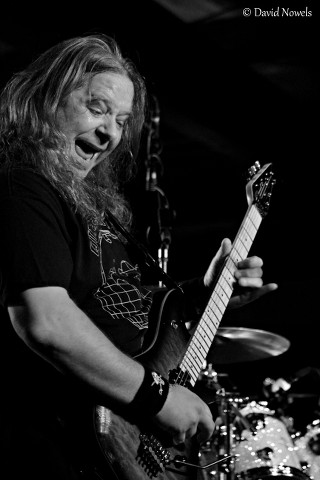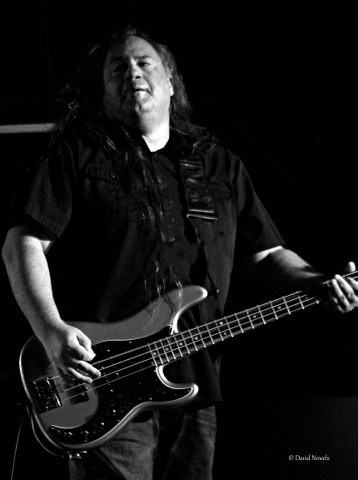 Relying on a set of RATT, POISON, THREE DAYS GRACE and other well executed hits as well as an engaging, high energy performance, THE DEAD ACES gained a room full of new fans. Definitely check them out and give 'em a listen if you get the opportunity!