Jinjer, The Browning and more at Diamond Ballroom (2019)
Diamond Ballroom

(

Oklahoma City, OK, USA

)
Jinjer, The Browning, Sumo Cyco, Titan, Wood N Bone, Voodoo Dolls
  This night belonged to Tatiana Shmailyuk and Skye 'Sever' Sweetnam, front women of JINJER […]
By Dave Nowels
•
September 8, 2019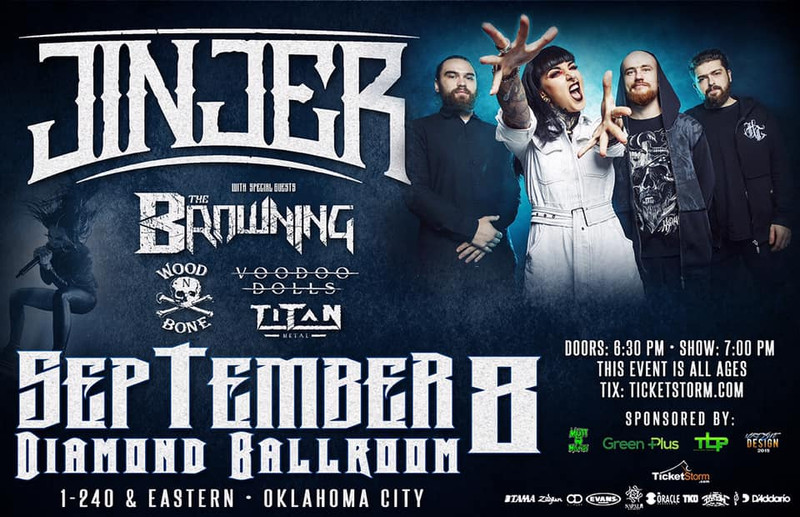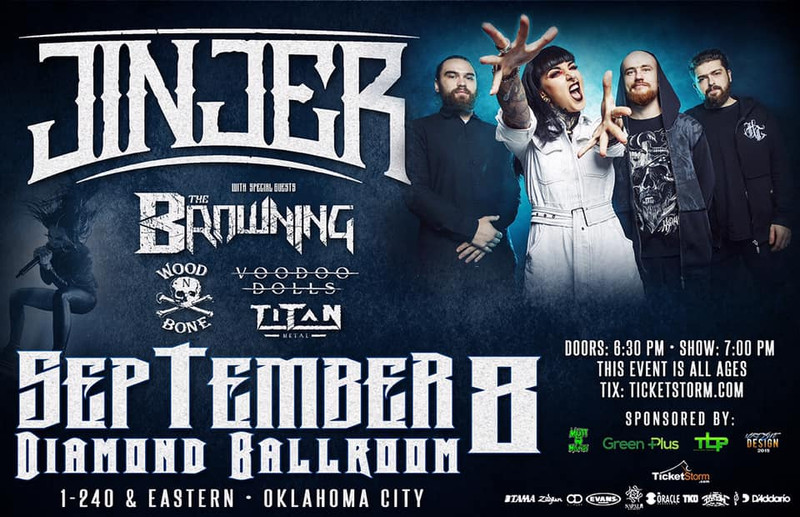 This night belonged to Tatiana Shmailyuk and Skye 'Sever' Sweetnam, front women of JINJER and SUMO CYCO. I say that with all due respect to the guys in each performing band this evening. Guys, you were all awesome. But, as I'm sure you'll all agree, this night proved to be dominated by the ladies. A pair of strong, metal-minded ladies that led their bands through extremely memorable sets of powerful music. It was really a sight to behold.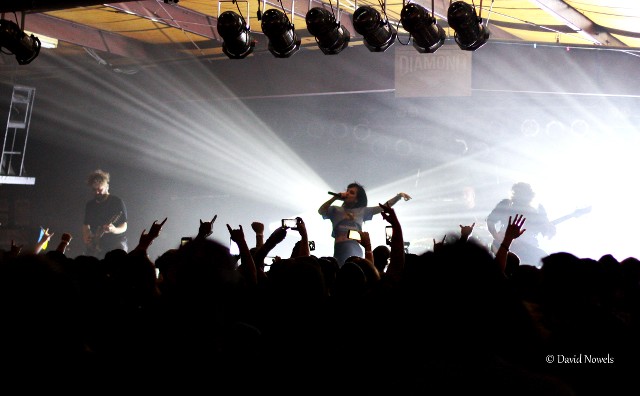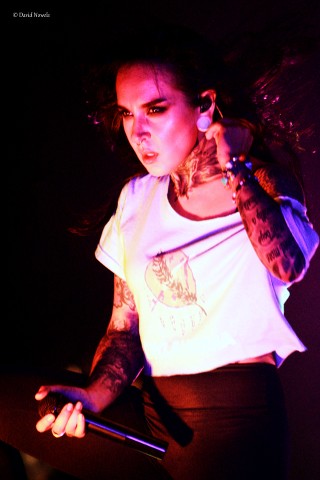 Sunday night  in OKC saw JINJER on the second night of their "Macro" tour, and  their first North American headlining tour. I believe that this was only the second show JINJER has played in OKC, with the first being a second billing with DEVILDRIVER back in October of 2018.That review can be checked out here: DevilDriver, Jinjer, Raven Black, Curse The Fall, Blackthorne Elite, Wood N Bone, Diamond Ballroom, Oklahoma CIty, Oklahoma, USA live report - Metal-Temple.com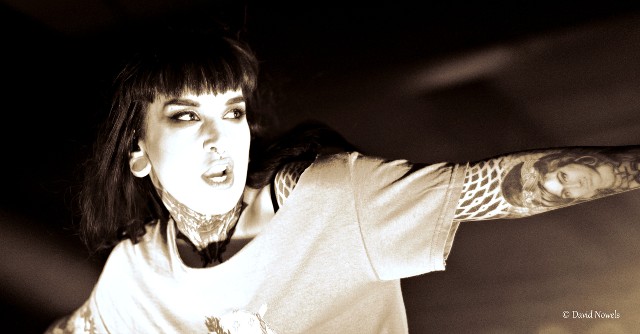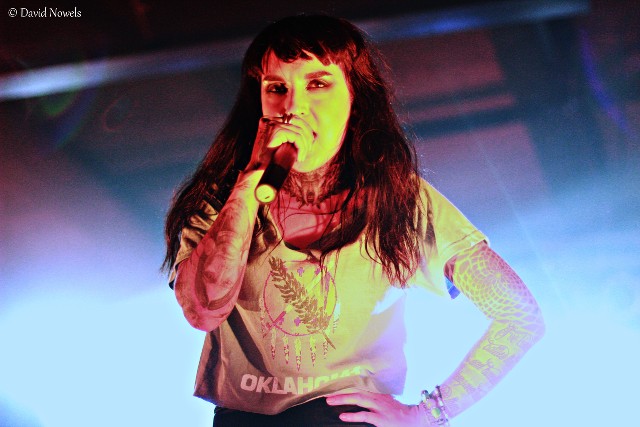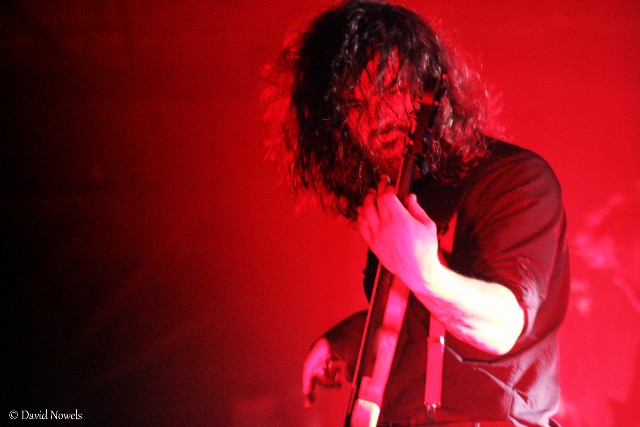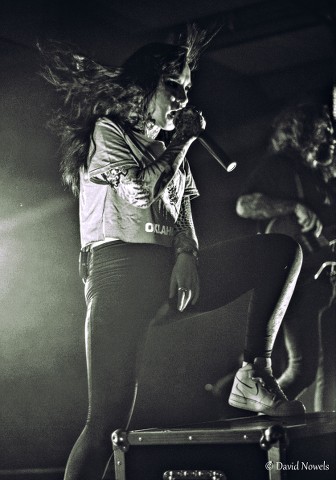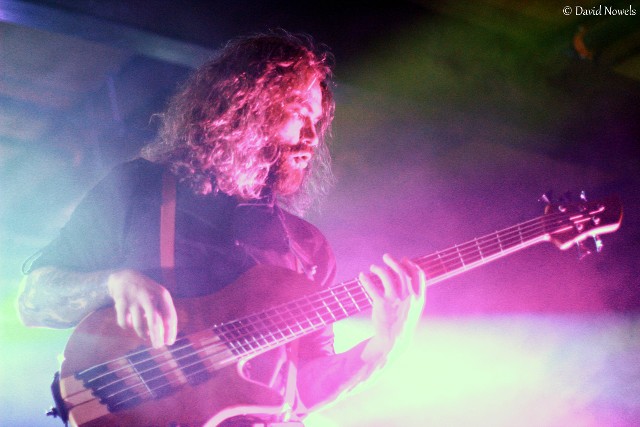 While supporting DEVILDRIVER on that tour it was readily apparent that JINJER was something special, a force to be reckoned with, and  more than ready to headline their own tour.  As good as DEVILDRIVER was that night, it had to have been tough following the passionate, high energy set played by Tatiana and JINJER just before them. It's also seems apparent that the DEVILDRIVER tour was a key element in refining JINJER's stage presence and professionalism. This is a band that is just exuding confidence and maturity right now, and it's pretty spectacular to see. On this night in OKC, Tatiana and band, Eugene Abdukhanov on bass, Roman Ibramkhalilov on guitar, and Vladislav Ulasevish roared through a 15 song set that began with "Teacher, Teacher", ended with the encore of "Pisces" included two new songs ("Judgement (& Punishment" and "Retrospection") fom the forthcoming "Macro" album on Napalm Records (releasing October 25th), as well as a slew of other Groove/Prog metal powerhouses.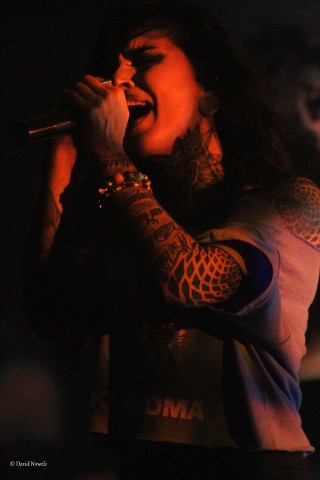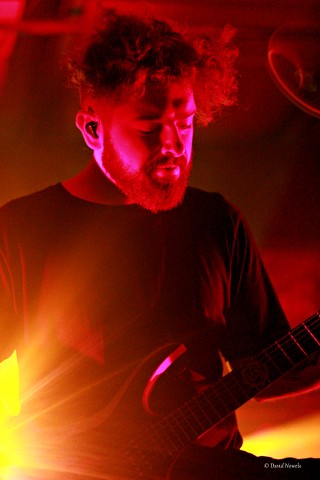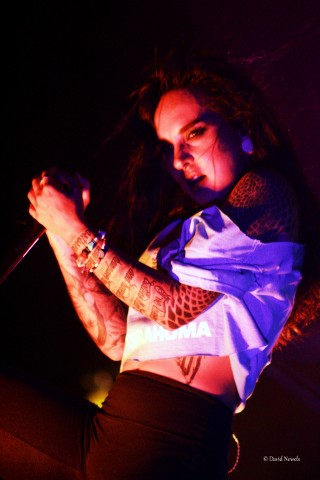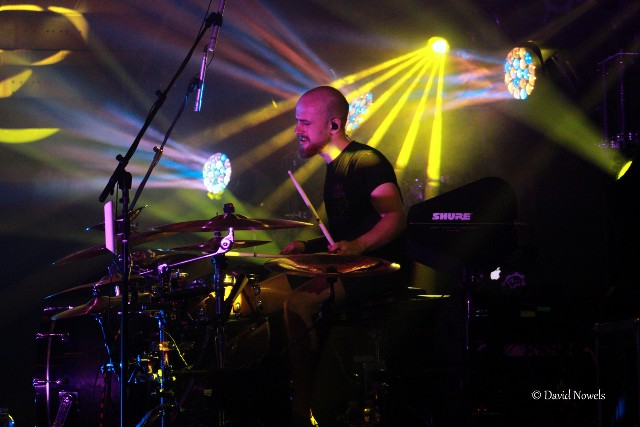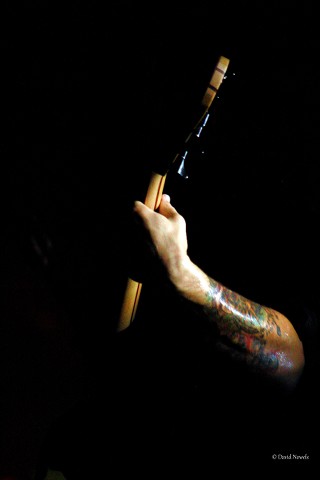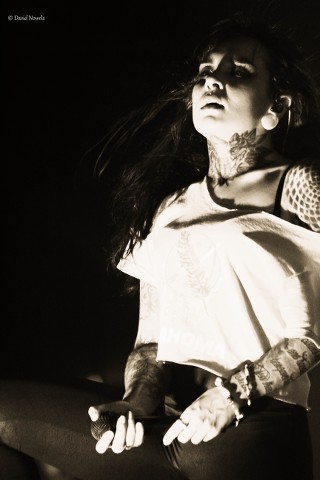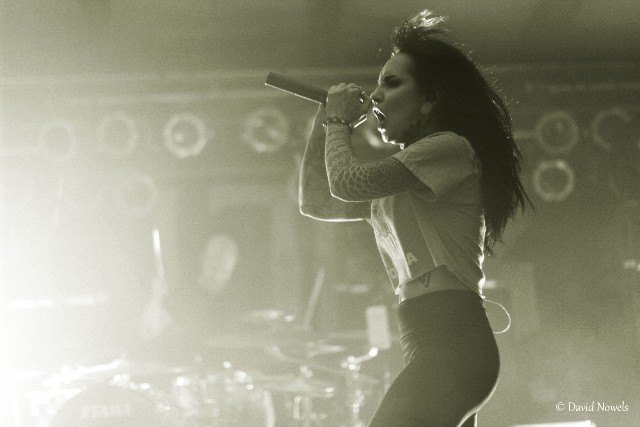 Quite simply, it was one of the best performances I've seen this year. JINJER's "Macro" tour continues across North America just into November before heading over to an extensive European tour. Do not miss this tour. Just don't.  I'm pretty confident in saying that this is a band that finds itself perched on the edge, and  just about ready to soar into mass popularity. It's fun to see it happening right in front of our eyes.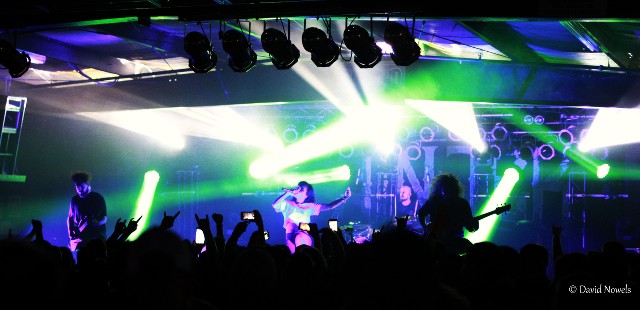 Main support for the night was Kansas City's THE BROWNING, who were also touring in support of an upcoming 10/26 release, this one on Spinefarm Records and titled, "The Geist". This is a band with some hints of Industrial influences, complex and technical approaches and a take no prisoner approach to playing live.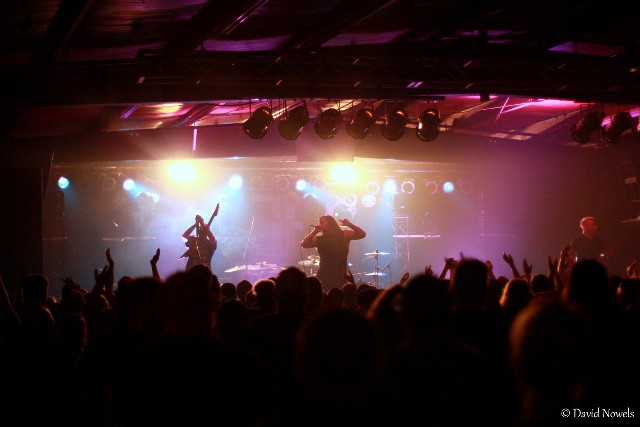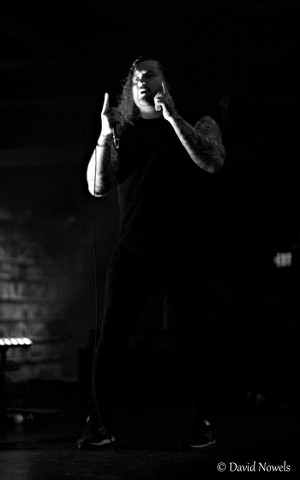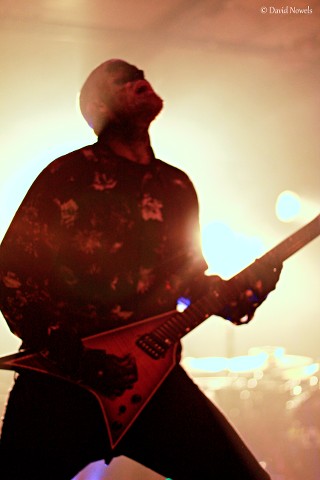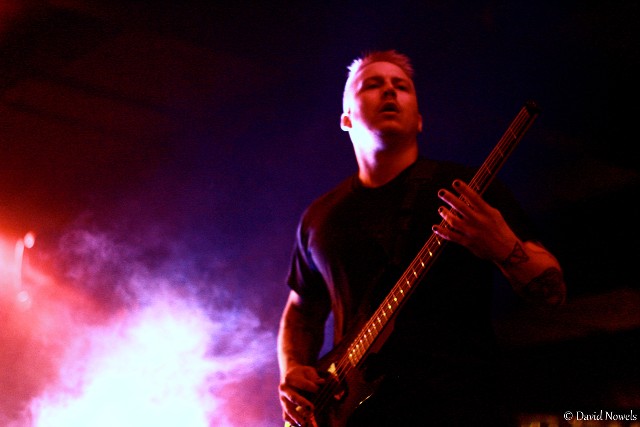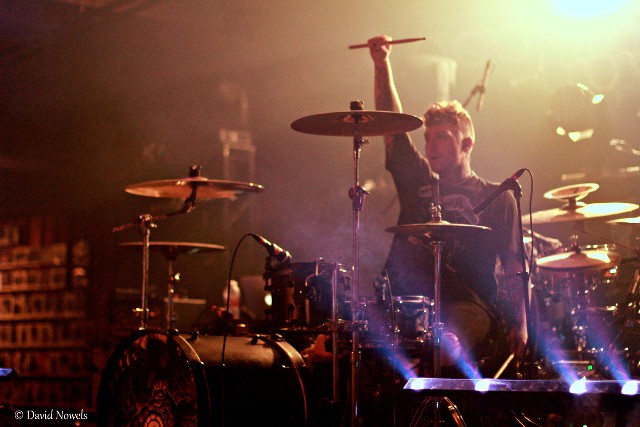 The band features Jonny McBee on vocals, Cody Stewart on drums, Brian Moore on guitar and Collin Woroniak slapping the bass.  Highlights included, "Sick Minds:, "Pure Evil", and "Optophobia". These guys played really well, and engaged the crowd extremely well. They unfortunately just faced the heavy burden of performing before and after a pair of female fronted powerhouses. I really enjoyed what I heard and loved their energy level. I certainly hope to see them roll back through OKC soon.
The other major touring support of the night was Canada's SUMO CYCO. The pressure that JINJER put on DEVILDRIVER back in 2018 ? That's happening again, but this time it's SUMO CYCO putting some heat on THE BROWNING. The fourpiece band fronted by Skye 'Sever' Sweetnam features an extremely talented line-up of  Matt 'MD' Drake on guitar, Oscar Anesetti on bass and Matt Trozzi pounding skins. The band's sound is original and aggressive, think NO DOUBT mixed with SKINDRED.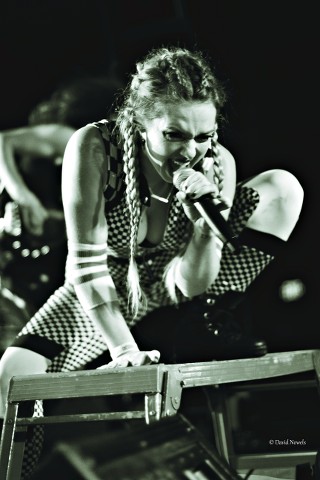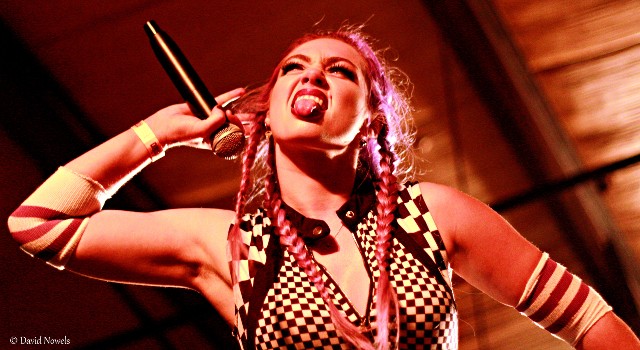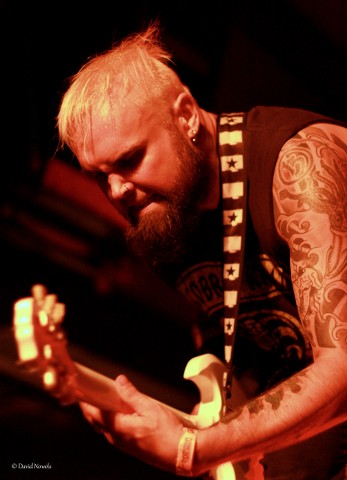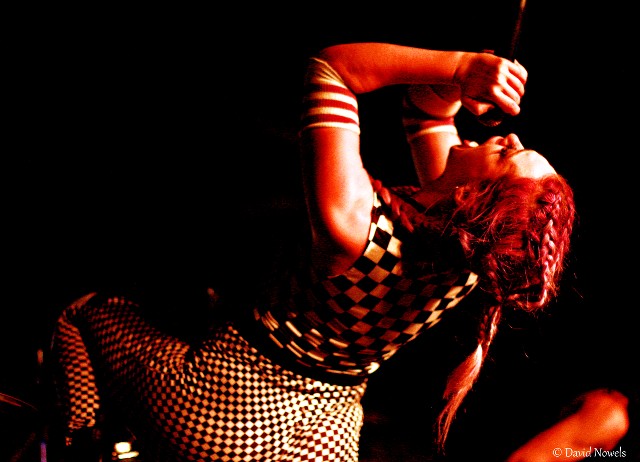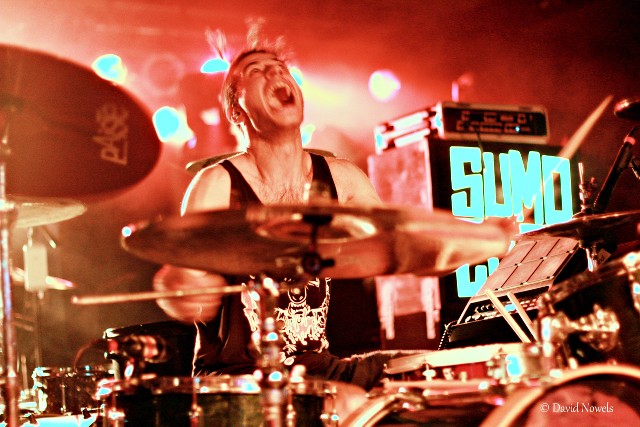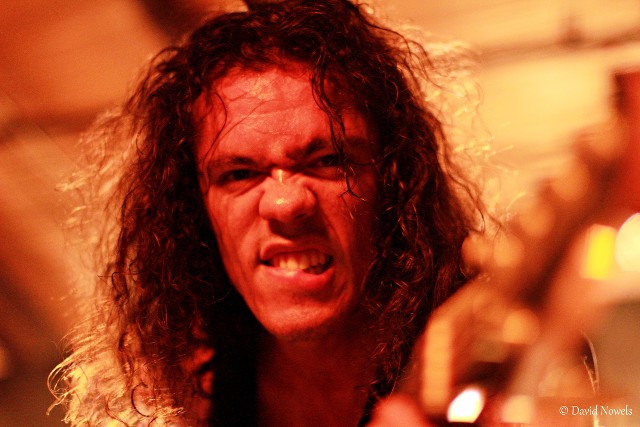 So yeah, basically a Ska/punk vibe. Whatever you want to call it, their set was one of the best of the night, second only to JINJER's. Sweetnam is a captivating and engaging front woman, and strikingly beautiful. Whether it was using the audience to pass her over to the bar to grab a beer, or her calls to keep the pit moving, she kept the audience under her spell for the entire set.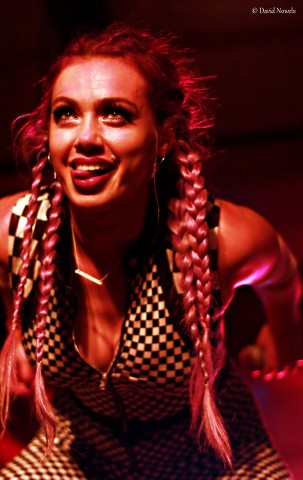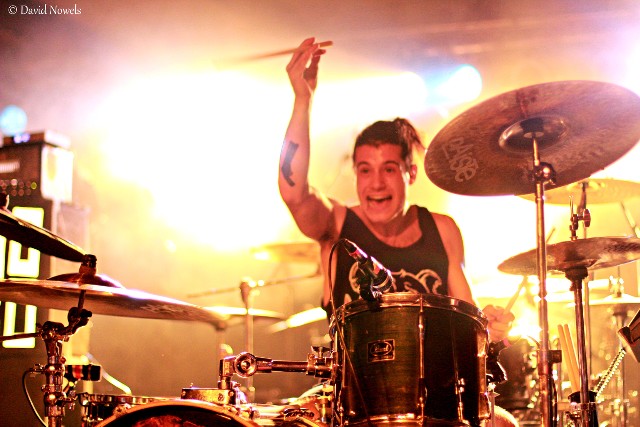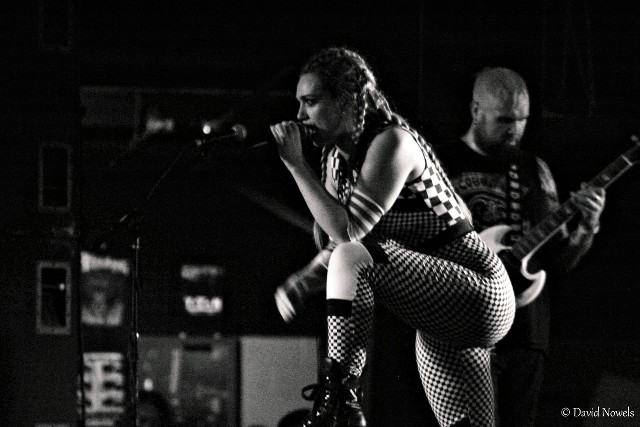 SUMO CYCO gained a whole room of new fans during this show, with buzz still going on days after via social media. If JINJER alone wasn't enough to make you get out and catch this tour, hopefully SUMO CYCO will. I'm already looking forward to my next chance to catch them. Hell, maybe they'll be headlining themselves sooner than later.
Taking the stage just before SUMO CYCO was local talent, TITAN, who hail from Lawton, Oklahoma.  Of the three local support bands, these guys impressed me the most. Their sound is hard to pin down, and founder and drummer/guitarist Dayton Keel's influences run deep, but the bands annihilating musical approach as well as vocalist Ricky Warren's style certainly brought to mind a mix of BLACK FLAG's Henry Rollins and NAPALM DEATH's Mark 'Barney" Greenway.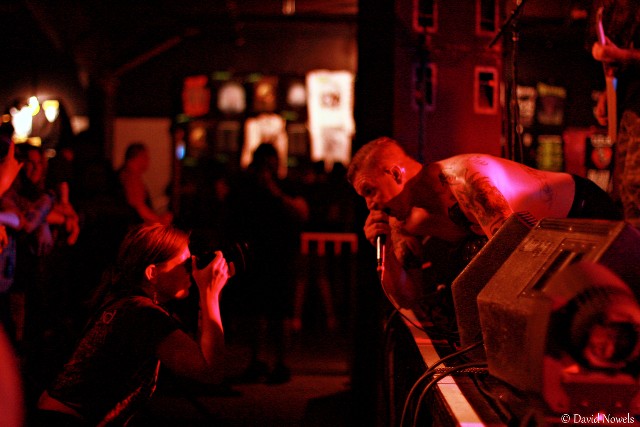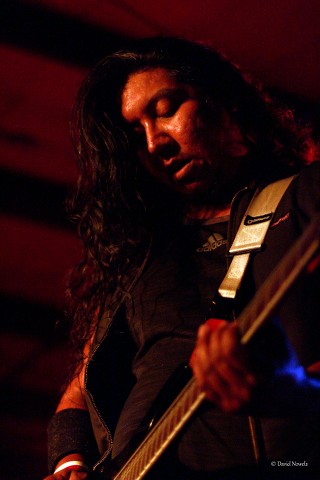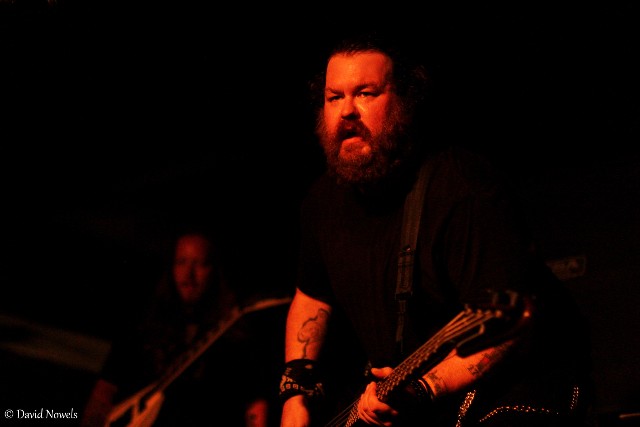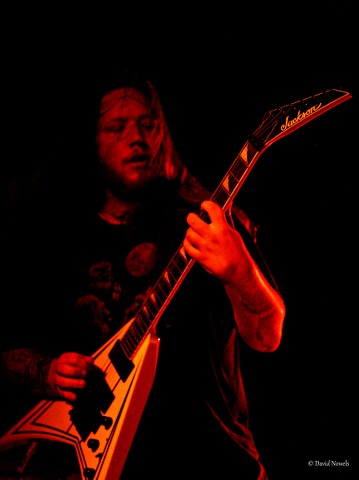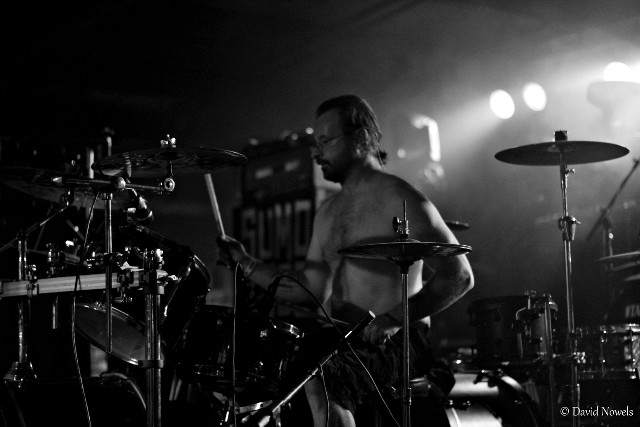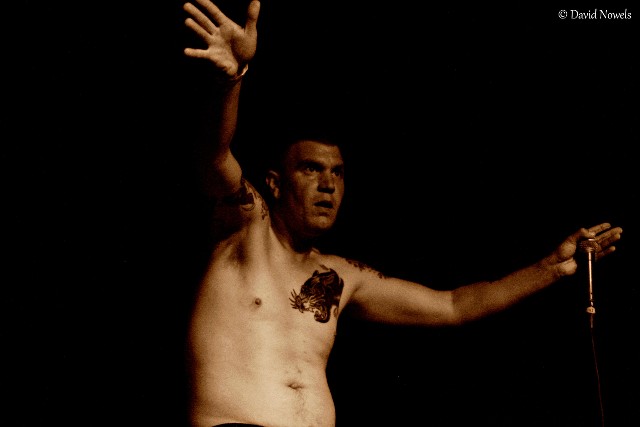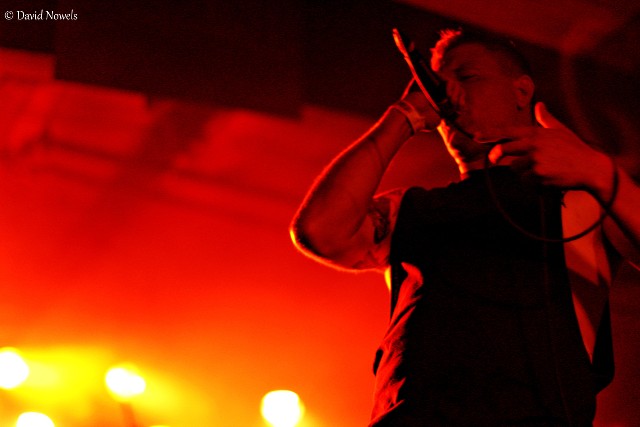 Rounding out the rest of the band are Dakota Hooper on guitar, Wesley Morin slinging the low end and David Dodson pounding the drums live. This was one of those performances that had me shaking my head and wondering how I hadn't heard these guys before. You can be sure they're on my radar now, and they should be on yours too. Be sure to check them out.
WOOD N BONE is another talented Oklahoman four piece with a solid reputation. In fact, these guys were part of JINJER's last OKC vist to the Diamond Ballroom as part of the DEVILDRIVER tour. They impressed then, and managed to do so again. Pure American metal in your face provided by Llogan Lewis on vocals and guitar, Arik Hanradt on guitar, Jerry Lund on bass and Bruce Richards on drums.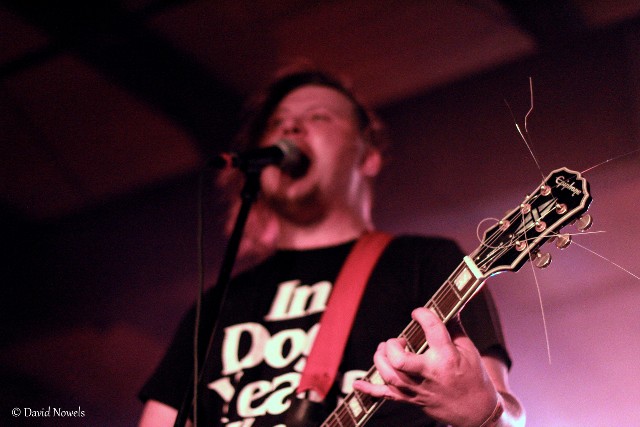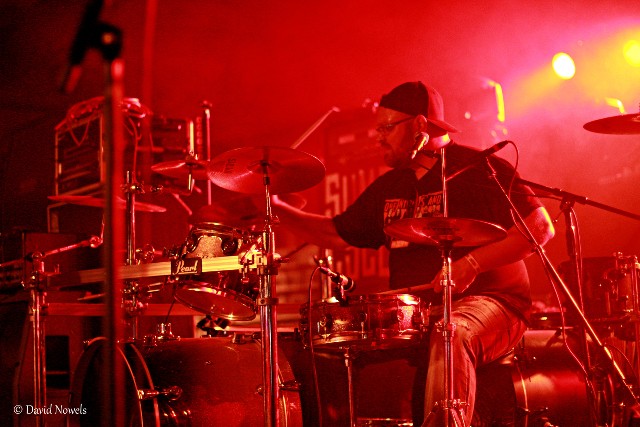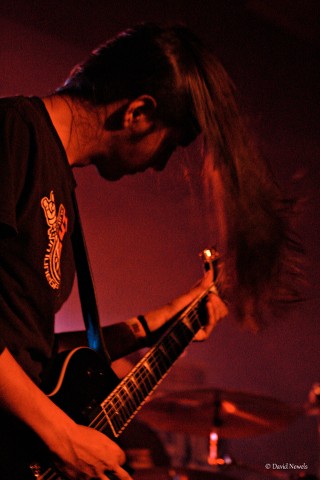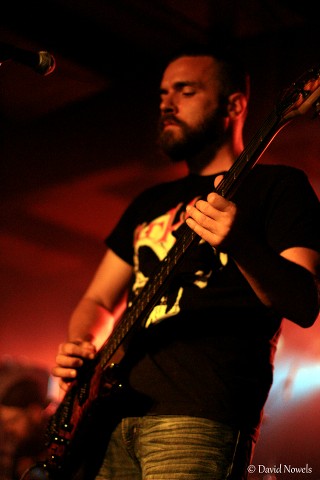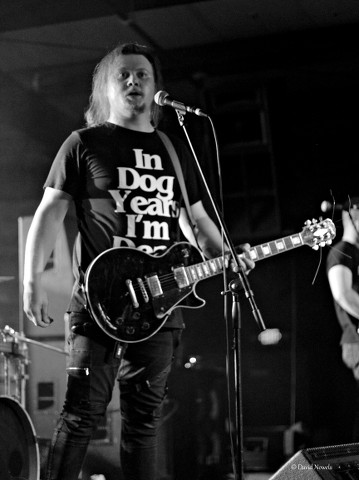 These boys did a great job warming up the growing crowd, and certainly seemed to be having a fun time doing so. They're another band I'd recommend checking out if you have the opportunity.
Hitting the stage earlier than the posted start time, and just as the doors were opening were self described, 'cinematic rock band', VOODOO DOLLS from OKC. The band's approach was certainly interesting, and full of potential, but this night's performance just didn't grab me. There seemed to be more focus on the visual approach than the musical approach, with many missed/wrong notes and some timing issues.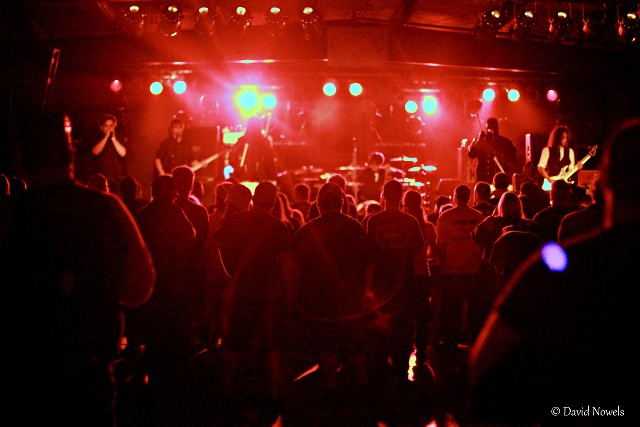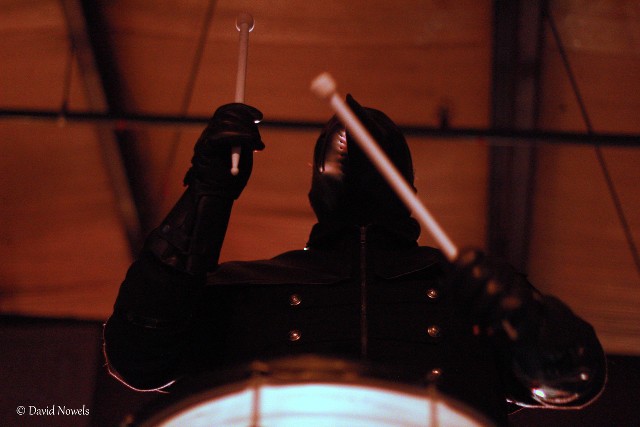 Perhaps it was the scheduling issues or a bit of nerves, but whatever the case, this performance just wasn't very memorable for me. The band has an album out titled, "The Marked Ones", and I'm certainly going to give it a listen for a comparison. Again, there seemed to be a lot of potential with VOODOO DOLLS, so I'll just chalk it up to an off night.
Here's the deal….this was a night of outstanding music, great people, bands and fans. I discovered some new to me bands, some new friends and was once again assured that the future of heavy music is certainly in good hands. Get your ass out there and see this tour, or just head out and support your local bands and venues. Maybe even go check out a band you've never heard before. They just might become your new favorite. It's certainly happened to me. Either way, you'll get to hear some good tunes and undoubtedly, you won't regret it.