Dark Tranquillity, Kataklysm and more at Zanzabar Club (2022)
Zanzabar Club

(

Louisville Kentucky, USA

)
Dark Tranquillity, Kataklysm, Nailed To Obscurity
   On February 2, 2022 I attended my first metal show in over three years. […]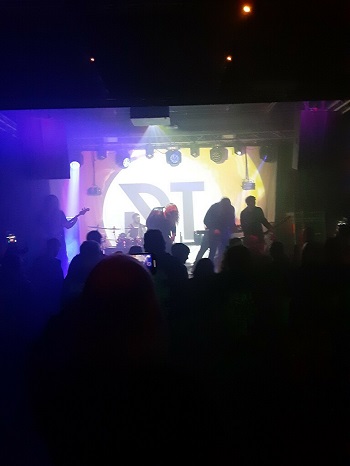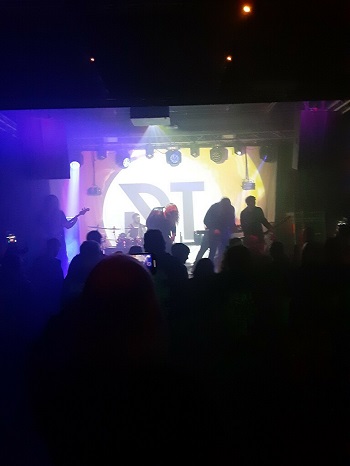 On February 2, 2022 I attended my first metal show in over three years. The show in question was the Louisville Kentucky stop DARK TRANQUILLITY'S  "North American Moments" tour with KATAKLYSM, and NAILED TO OBSCURITY.  The original location of the show was supposed to be at Diamond Pub & Billiards but apparently it is suddenly closing.  Ironically enough, that last metal show of mine was DARK TRANQUILLITY at the Diamond Pub.  I've seen several shows there and the place will be missed by me and no doubt tons of other metal lovers.
The show was moved to Zanzabar, a very small venue with vintage pinball machines and Southern-style pub grub and a decent selection of alcoholic drinks.  As a metal fan, I'm not a stranger to small venues but the concert hall for Zanzabar's live shows is the smallest I have ever seen.  Is there anything wrong with that? Absolutely not! In fact, there was nothing wrong with anything that happened that night.  My brother and I arrived there pretty early but the energy in the air was immediately palpable.  And why wouldn't it be?  For most people in attendance, this was their first show in years and something we all needed after these last harrowing years of the pandemic.
As we walked down the street and approached the venue, we spied the tour buses parked on the side of the street and our hearts collectively and immediately jumped: our salvation is at hand.  For one night ,at least, we didn't have any burdens.  Jobs, stress, the toll of life's every day atrocities didn't mean anything.  Tonight, we were two metal fans coming to have our cares blasted away at 100 decibels.
Upon entering Zanzibar, it was immediate that the turn out would be huge, considering the type of music that was about to be presented.  Every where you looked were black logo shirts and blue jeans bobbing around in a sea of metalheads.  Every one was talking, smiling, drinking and eating.  Yes, this would be our night!  Upon entering the area where the music was about to explode our world, KATAKYLSM's merch booth was to the left, while DARK TRANQUILLITY and NAILED TO OBSCURITY shared a booth on the right.  This was just a few shows deep into the tour so all three bands had plenty of merch to offer.  Thankfully it seemed like the bands were going to finally  make some money because a lot of people, including my brother and I, bought our fair share.
The whole area is standing room only, with a slightly risen floor for people to stand on at the back before it drops off to the front area just in front of the stage.  Perhaps because of fears of being too close, there never was much of a mosh pit for any of the bands' performances.  A few people here and there started a small circle but, overall, it was pretty tame.  I think at this point in time, fans were just happy to be able to see/hear live music….why waste time moshing when you can absorb the metal blasting in your head.  Personally, I don't mosh either but I'm also approaching my 40's.  DARK TRANQUILLITY and KATAKLYSM have both been around for over 30 years so a lot of their fans are getting older along with me.  Who wants to get banged up at that age?  I sure can't, I have a job and family to get back to.
But my brother and I do head bang like its 1985 and we sure as hell did, along with everyone else.  The anticipation of said head banging and metal up our ass was shared by everyone in attendance and the energy was absolutely electric. The first band on stage was Germany's NAILED TO OBSCURITY.  Their melodic doom/death metal sound was the start of a wide variety of death metal that night.  I am very familiar with the band, having discovered them in 2017 with their "King Delusion" album and I even did an email interview with them once before and reviewed their excellent "Black Frost."  I wasn't sure how well their more progressive and somber style, especially compared to the other two bands that were to follow them, would work with a crowd that was bursting at the seems and craving some metal. But I need not worry as  their somber and melancholic  style is still incredibly heavy, especially live, and they have more than enough power to get the crowd moving.  Their vocalist, Raimund Ennenga, has a lot of stage presence, especially with the emotions he conveys in his hands or way he stands.  His death growls were audible enough, even over the roar of guitars.  I was impressed that he doesn't grandstand—when their songs go to long stretches of music, he gets out of the way and lets the players get the attention.  His cleans were less audible, something that tends to be a problem with metal bands live.  His clean voice sounded great but I think maybe the live mix just wasn't suited for them. I  Or it could have been wear I was standing, which was directly in front; I could feel the wind and vibration coming off the double bass from their fantastic drummer  Jann Hillrichs.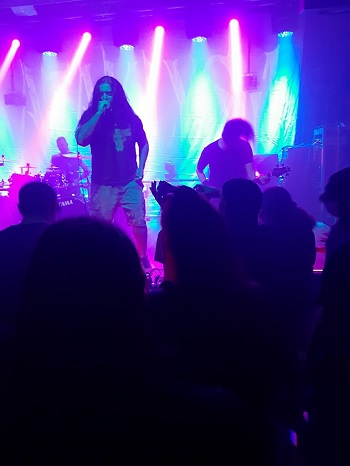 I was pretty buzzed during their set so I don't remember much of their set list other than they played "Black Frost", "The Aberrant Host" and their new song "Liquid Morning".   Overall, a strong opening performance.  The opening band never has the largest crowd but these guys did fill the room okay and I've no doubt they made many new fans that night. After they left the stage, a large portion of us went outside to the smoking area.  The buzz for the live show as growing stronger and stronger—KATAKLYSM was being highly anticipated and I caught bits and pieces of several conversations among the fans about how they can't wait to see them.
Though I've been a fan since their 2004 release "Serenity In Fire" Neither myself or my brother had seen KATAKLYSM live before. Their music has always seemed tailored made for live shows but I didn't fully realize how much so until they took the stage   In fact, I don't think anyone in the venue was prepared for what they were about to experience. In essence, KATAKLYSM is unquestionably one of the best live bands I have ever experienced, right up there with IRON MAIDEN and other greats.  They are death metal but they can be rather melodic, especially their later stuff.  However, live, they are a huge wall of sound—a moving mountain of unstoppable proportions.
Jean-Francois Dagenais is currently the only guitar player in KATAKLYSM so a lot is on him to keep their sound full, especially the riffs which allow for earth quake inducing riffs.  The other two bands on the bill have two guitarists.  I'm not saying it wouldn't change their sound or be a difficult problem but at least if something happens to a string or there is some sort of outage, they have another guitarist to fall back on.
With that being said, they do have monstrous bass courtesy of Stephane Barbe.  His live playing was the equivalent of being shaken to death.  Waves  upon waves of bass just went from his fingers, to the speakers, and out into our bodies.  He wrecked us.  Without him, and James Payne, their rhythm prowess wouldn't be the beastly creature it was during their ten song set.  He might be a new members, having joined in 2020 and not yet appearing on an album with the band, but James definitely upholds the spirit of "The Northern Hyperblast," and I hope he stays with the band.
Of course, Maurizio himself is just as important of an ingredient.  He seems like big guy anyway but on stage he truly looked like a towering giant.  His stage presence was just as staggering and his banter and crowd interaction between the songs was first class. As I previously mentioned, they played a ten song set, which, honestly, seemed to be a little short but it was blistering all the same.  They didn't play songs from any of the albums released prior of 2006 but with such a large discography, I doubt anyone there expected them to.  I mean, they sure as hell weren't going to play anything from their Houde era so I'm happy with the set list we got but, like I said, I just wish it was longer.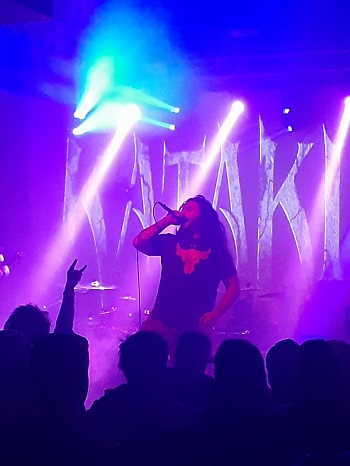 If NAILED TO OBSCURITY got the crowed ready for some metal then KATAKLYSM gave us all we could handle and more.  Through their entire set, the floor was a moving sea of heads banging.  I don't think anyone looked straight up at the stage the entire time!  They ended their set with "Slither" and the whole room exploded. After they left the stage and our ear drums were successfully worthless, we all went back outside to the smoking area and EVERYONE was talking how amazing KATAKLYSM were.  If there was anyone in that venue not blown away by their performance then they probably didn't have a soul or were dead.  I think even anyone who wasn't a fan would still walk away impressed.
Then we heard the rumblings of the next band getting ready to do their part: DARK TRANQUILLITY.  They were the headliners and the reason we were all there.  KATAKLYSM had a huge crowed but everyone and their grandmother was there for DARK TRANQUILLITY.  I wasn't sure how well the momentum  of the show would keep up after KATAKLYSM.  No offense to DT (they are my favorite band) but their music isn't exactly brutal and they certainly, as a whole, don't have the unrelenting speed of The Northern Hyperblast.
But Dark Tranquillity's dynamic breed of Swedish Melodic Death metal is second to none.  They are the ones who started the genre back in 1989—the forefathers and the world damned to hell if they don't make good on that.  And they sure as hell did. Their set was a long 18 songs , a massive foray into their discography but it never lagged—the set list was perfectly constructed and the flow was optimal. Of their twelve full length albums, songs from eight of them were played and that represents quite the feat and a wonderful musical overview of their sound.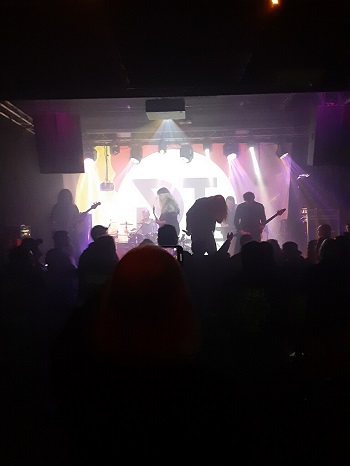 They even played, "Punish My Heaven," which is such an old song that I would sure I would never hear it live.  But they played it and they frickin nailed it.  The crowd shared my sentiments as they went insane when the opening guitar and Mikael's scream barreled their way through us. Much like Maurizio, Mikael's voice only gets better with age.  I've seen them live once before and have, of coursed, watched countless live shows on you tube and their two DVDS but this was the best I have seen them.  This time around he did a lot of deep, death growls to go along with his higher pitched death screams.  Those screams sounded much more throaty and raw, taking on a black metal feel to them.  I just loved it.  And so did he and the other band members.  All six were smiling and thrashing around—Dark Tranquillity are a band who enjoy playing live and are still hungry for it.  It definitely shows.
Not too long go, both Anders quit the band and left their rhythm section completely gone.  They haven't been officially replaced but filling in on this tour is Mike Bean on bass and Joakim Nilsson on drums.  Mike did an amazing job on bass especially considering he didn't have a whole of time to prepare for the tour.  He knew his way around the songs well and was clearly happy to be there.  Joakim is a beast on the kit and he breathed new life into the songs.
Chris Amott and Johan Reinholdz continue to uplift the songs with new dynamics.  Of course, the songs aren't drastically changed mind you but different players make songs sound, well, different.
But the essence of the songs, the reasons why DARK TRANQUILLITY, have been going strong for over 30 years, are the same and the crowd was just both insane and transfixed for it.
This show confirmed what we metalheads already know: a heavy metal show is one of the most powerful forces on Earth.  Here's to many more!
Written by: Justin "Witty City" Wittenmeier
Photos by: Joe "Chockflopple" Wittenmeier