Bloodshot Dawn, Infected Dead and more at The Black Heart (2019)
The Black Heart

(

Camden, London United Kingdom

)
Bloodshot Dawn, Infected Dead, Becomes Astral, Tyrannos
The Black Heart, one of my favourite venues had an impressively deadly lineup on this […]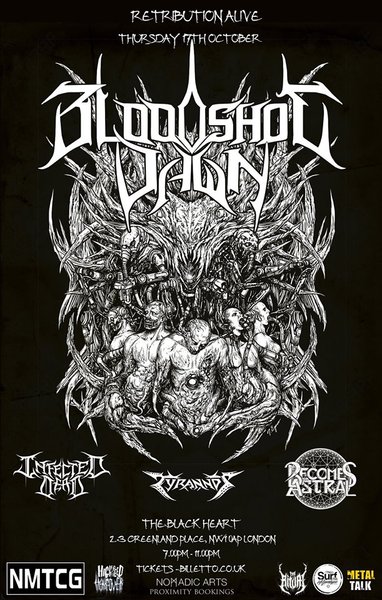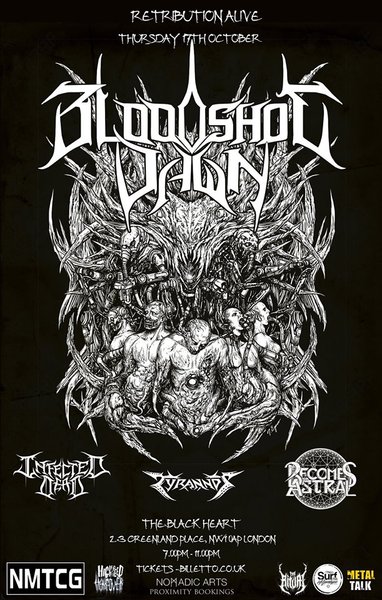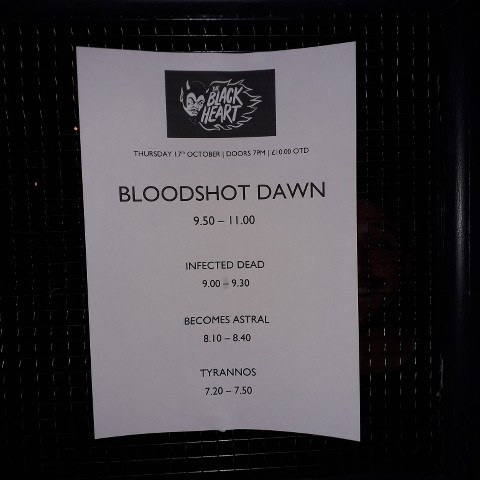 The Black Heart, one of my favourite venues had an impressively deadly lineup on this night; Retribution: Alive assemble BLOODSHOT DAWN, INFECTED DEAD, BECOMES ASTRAL & TYRANNOS - this menacing foursome deliver a gruesome dose of heavy-hitting Progressive/Melodic/Thrash/Technical Death Metal amalgamations. Having arrived about an hour early; I meet with a fellow metal maniac, and had a brief chat with the BLOODSHOT DAWN vocalist Josh McMorran who is a down to Earth and humble guy. I have seen BLOODSHOT DAWN a good handful of times now, and they always deliver the goods. So, to see them again is a massive pleasure on this immense lineup. While Josh looked fatigued and incredibly tired, that did not stop him in giving a killer metal show.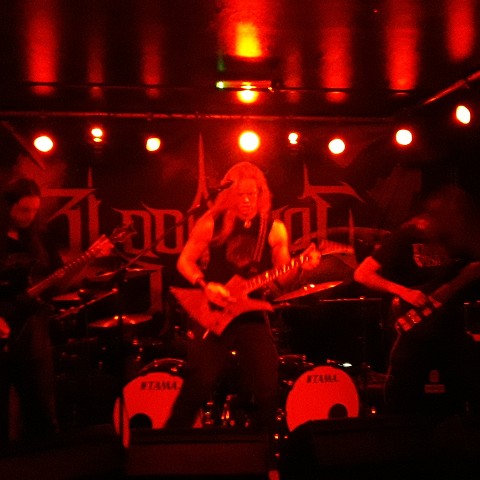 And so the time soon approached for the mighty TYRANNOS to hit the stage; a little bit before that though, I just had to check out the marvellous collection of merchandise on sale - everything was reasonably priced and awesome to admire. And so the time came for TYRANNOS to unleash their monstrously meaty representation of sonically seamless speed; rambunctious malevolence, and amplified adrenaline which fuses boistrously bouncy hymns with crunchy complexities.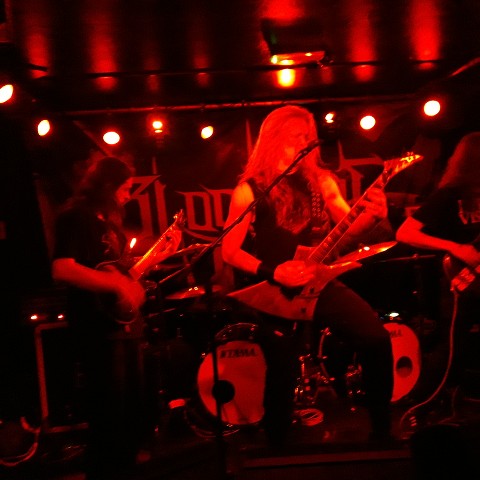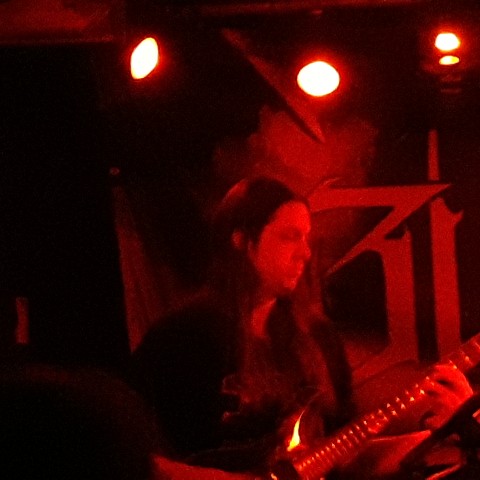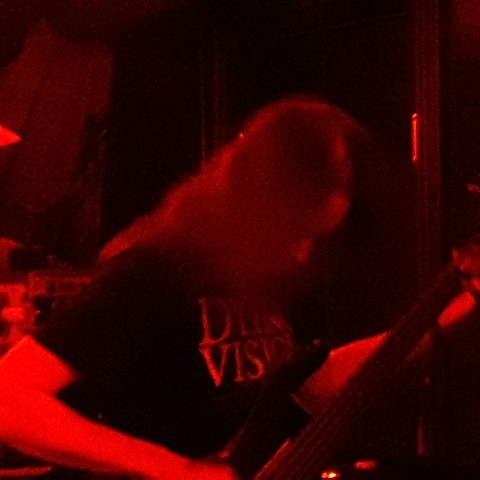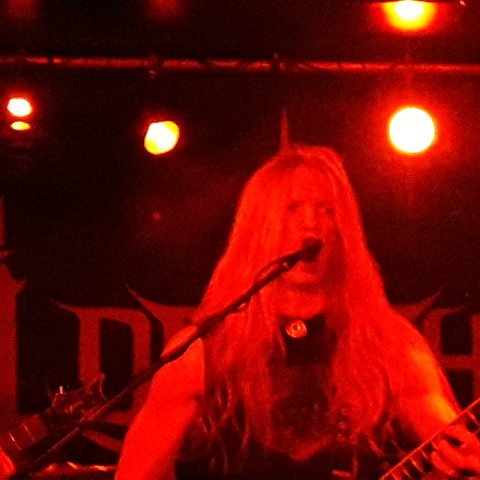 Bonno Stobart on guitar/vocals shreds with rapidly swift nimbleness; thunderous roars that scream with raspy yet vicious momentum, while quaking with quintessential precision. Owen Padfield on the audible bass injects infectiously groovy thumps that pummel with pulsating virtuosity; solidified with punchline kicks, lacerating jumpiness & volatile vehemence. Parmahn Azad manifests with stompy rhythms; wild stimulation, and a barraged frenzy of flamboyantly hasty foundations of borderline grinds that pound with uproarious tempos. A brilliant opener that thoroughly surprised me; I liked the name, and everyone were really friendly after the gig. A great band who were definitely an awesome discovery, next up - BECOMES ASTRAL.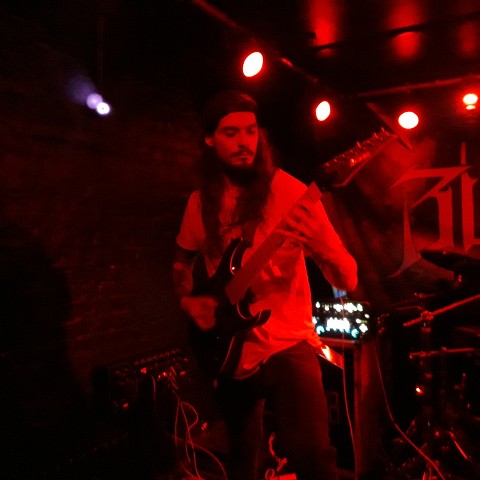 After a brief break; BECOMES ASTRAL storm onto the stage, conveying a hardened implementation of extremely intricate elements...forging creatively distinguished harmonies, fuelled with a comedic flair & concretely gnarly finesse. Cam "Shambles" Sharer on vocals demonstates deep grunts; venomous spits, and a distinctive fabrication of high-pitched lungs that yells with profusely organic substance. Layne Richardson on guitar embellishes on experimental detail; dominating with riveting yet razor-sharp snappiness, quirky potency & vibrantly ruthless pandemonium.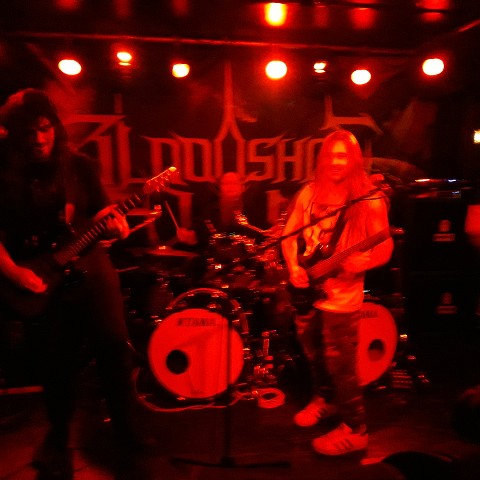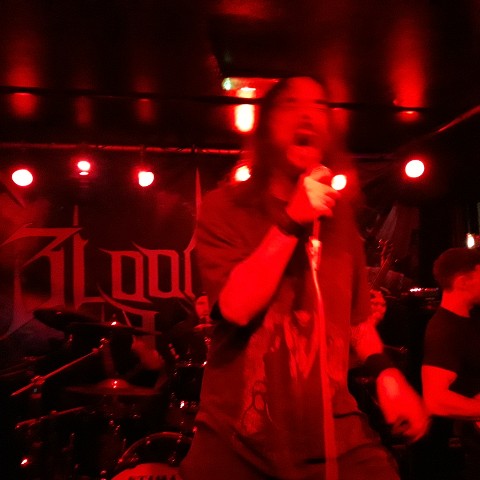 Liam Frith on bass gallops with rampent mayhem; revolved with striking oppression, meticulous skill & combustible firepower. And finally; Greg Carvalho on drums batters with primitive technicalities, slamming with scattering subjugation - another blistering addition to this groundbreaking lineup.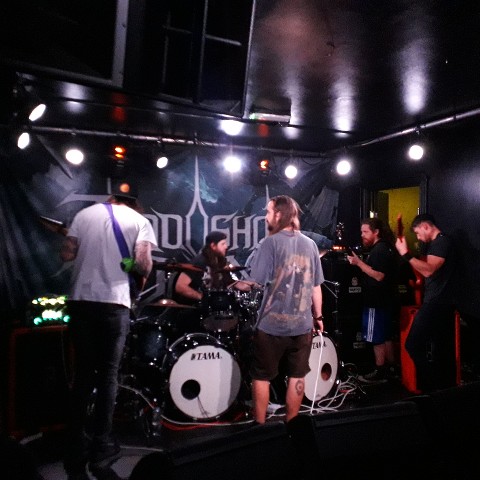 Those previous 2 bands were remarkably splendid; I had a blast going crazy with them, which earned themselves a new fan! However, another short wait with much anticipation for INFECTED DEAD to rage onto the stage...this band always grabs my attention with their intense blast beats; furious chugs, chunky instrumentation & toiling riffs that generate into a fierce firestorm of breakneck bombast with bulldozing blitzkreig. Lou Ede on vocals portrays rawly rough savagery; raging with throaty snarls, with tightened shrieks that are brutally barbaric & aggressively beastly. Duo guitarists Chris Rahman & Alex Brown established a consistent flow of trailblazing patterns, jarring maelstroms of strong panache & weighty talent. While powerhouses Martin Tang (on drums) & Nathan Hammond (on bass) demolish eardrums with robust styles that are immeasurably impactful.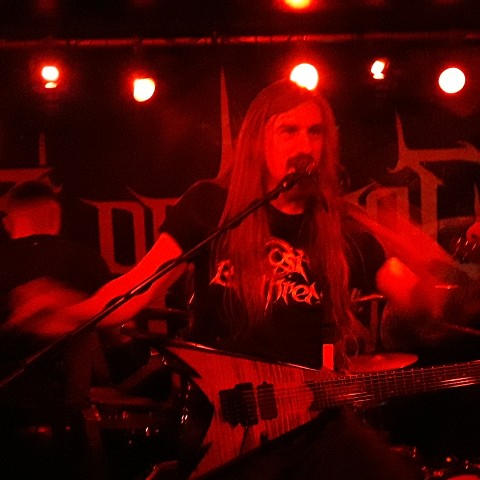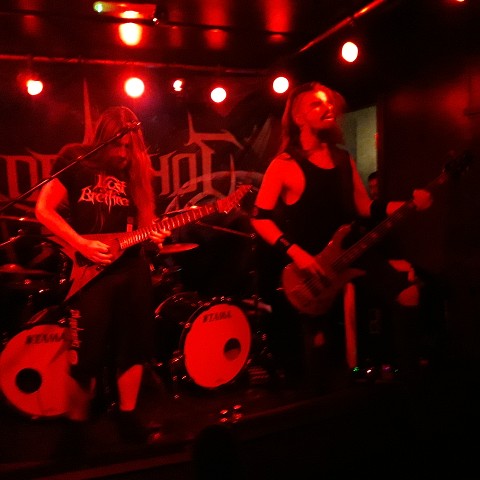 And so with INFECTED DEAD leaving the stage; I enjoyed a helluva gig that left me wanting more, with yet another brief intermission and great patience - the headlinging act BLOODSHOT DAWN race onto the stage with their ritual onslaught of smothered melodeath qualities. 11 songs starting off with "Smokes & Mirrors"; they released an energetic but captivating experience that stayed true to the CD version, Josh McMorran on guitars/vocals articulates in a fashionably collateral formulaic of devilish havoc & diligent chord progression – persistently engaging on epic breakdowns & rumbling ultimatums that shake with prestigious proficiencies. "Survival Evolved" advances like a melodic meltdown of maddening proportions; Morgan Reid also on guitar forges a relentless range of rowdy yet thrashy remedies that excel fluidly with polished perseverence.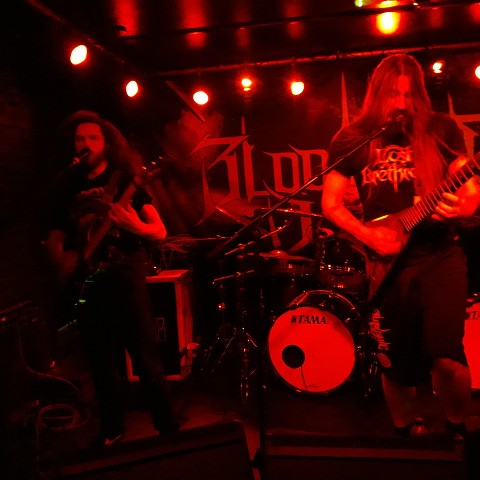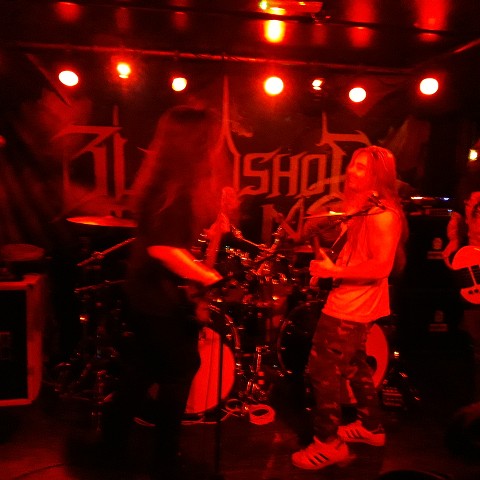 "Godless" brought fourth an explosive array of bludgeoning damnation; destroying souls with headbanging calamities, harnessed with wrathful vengeance & stunning songwriting memorabilities. Giacomo GastaldI on the rolling bass assists in a resonant soundscape of sulphurous prodegiousness, "Unified" unites an exemplified amount of rich magnitudes & magnetizes spirited enrichments, evolved with triggering pursuits that made me go a bit crazy indeed. James Stewart on drums hits his set with steely proximity; as "Shackled" enters the fray, rattling with more prompt reckoning...raising the roof with resounding yet warlike wickedness – with no slow times, nor anthemic ballads (chorus' perhaps) ...BLOODSHOT DAWN never fail in delivering mammoth skill while staying coherently accurate to the original source material.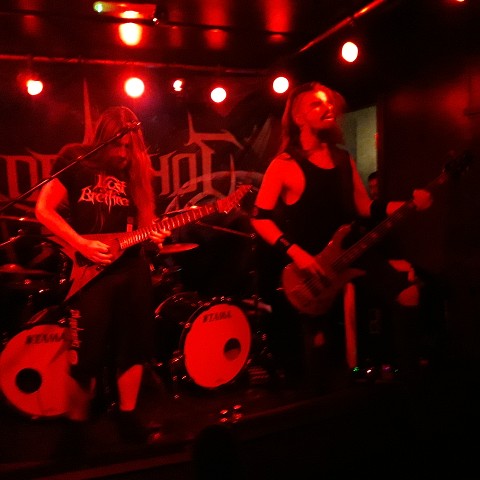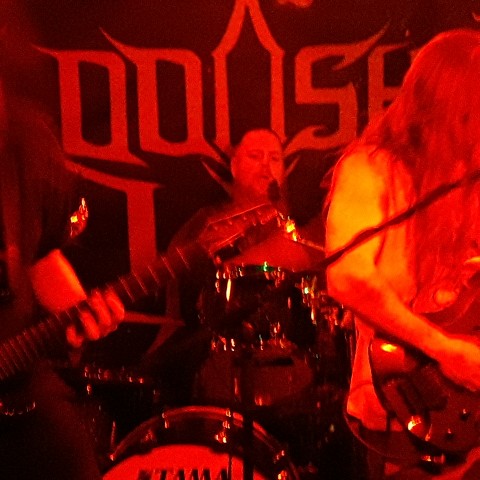 "Quantum Apocalypse", "Black Hole" & "Consequence Complex" each equally comprised of enjoyably entertaining executions…acutely arranging intricate designs of promising performances that relished with rocketing succession. Overall concluding the gig with the finale 3 songs: "Seared Earth", "DNA Reacquisition" & "Vision" which were zestfully superb. BLOODSHOT DAWN certainly outdone themselves yet again with a brilliant exaltation of triumphant melodeath presentations; with that, the night comes to a close...and it was definitely worth the trip there despite my last train being quite early, but there's always an improvisation. All bands on this night were exceedingly entertaining, and Retribition: Alive also deserves credit for putting such a belter on - if you love extreme metal, you maniacs must keep an eye out for this promoter. Rock on!