Nuclear Power Trio: Announces New Album "Wet Ass Plutonium"
Music video for the first single "Nyetflix and Chill" now live! It's the moment everyone […]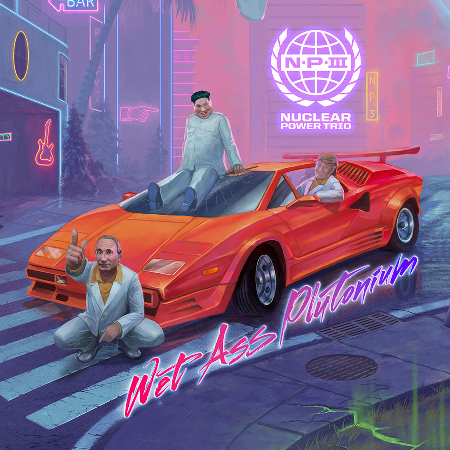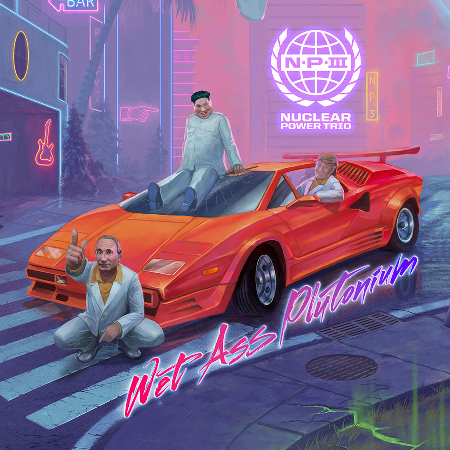 Music video for the first single "Nyetflix and Chill" now live!

It's the moment everyone worldwide has been waiting for. The Nuclear Power Trio has returned bringing with them news on their sophomore release Wet Ass Plutonium. The next chapter in this tyrannical trio's musical endeavors will be dropped on July 28, 2023 and features 9 new tracks.

Watch the video for the first single, Nyetflix and Chill, here: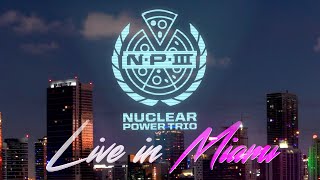 When clicked, this video is loaded from YouTube servers. See our privacy policy for details.


"Donny, Vladi P and I had a little tiff at the end of the aggressive touring cycle for the last record. We made up though and decided to spend some time in the supreme U.S. city of Miami, Florida. We went to a bunch of synthwave clubs, drove around in an orange Lambo, purchased white suits together, and watched a lot of Miami Vice. We really just fell in love with each other all over again and it was truly inspiring." - said Supreme Drummer Kimmy.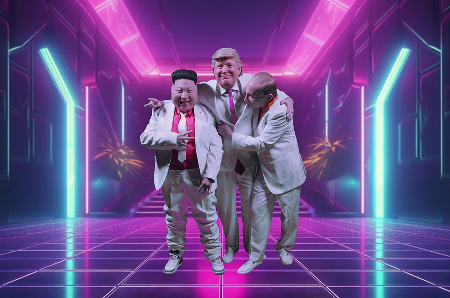 As a result of their inspirational South Beach sabbatical, the trio have concocted an LP that dwarfs the magnitude and ambition of their debut release. Arrangements include strings, real shred-harp, horn sections, and full-on synthwave leads. Elevating the songs to previously unforeseen heights are guest solos from Chris Broderick (In Flames, Megadeth), Ben Ellis (Scar Symmetry), Brian Hopp (Cephalic Carnage), and Scott Carstairs (Fallujah). Rounding out the epic compositions are orchestrations from Jesse Zuretti (Marvel), and for the first time on a Nuclear Power Trio song, vocals.
"We kept telling the label, We've done a great job, but it's not finished yet, and when we finish will be, in a position like it hasn't been, maybe ever," said lead guitarist Donny. "You think about it, and you really ask anybody, really, what could make 2023 incredible, and they'll tell you it's Wet Ass Plutonium."
"Donny told me this was a 'trio'! One presidential harpist and a couple secret service horn sections later, there were over 750 tracks in the project. Anytime I bring it up he threatens to 'send me over the wall', whatever that means. I'm pretty sure this is a misappropriation of government funds, but I'm keeping my mouth shut." - quipped the band's producer Dave Otero (Cattle Decapitation, Archspire).
Pre-orders for the album, which will be available on CD, vinyl, digitally, and part of a bundle including a shirt, are available now at the following location: metalblade.com/nuclearpowertrio.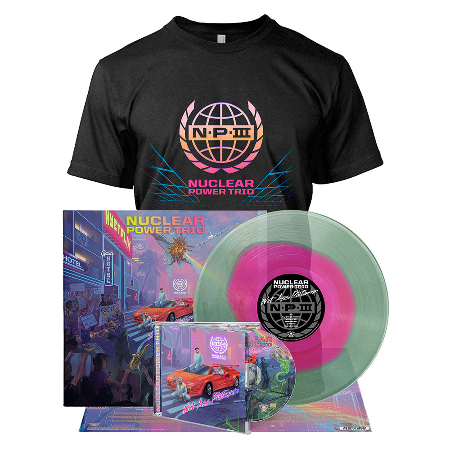 Tracklisting:
01. W.A.P. (Wet Ass Plutonium)
02. Apocalypse Mao
03. Nyetflix and Chill
04. Air Force Fun
05. Snark Side of the Un
06. ¡Vamos, Brandito!
07. Anti-Saxxers (Mandatory Saxination)
08. Critical Bass Theory
09. Red Scare Bear Stare


About the band:
It's been three years since Planet Earth's most unanimously cherished year, Two Thousand and Twenty. Beloved amongst the Tellurian inhabitants for a multitude of reasons, the year's standout contribution was unequivocally the release of Nuclear Power Trio's, "A Clear and Present Rager". The EP's unrelenting fervor for igniting peace via nylon-guitar-fueled fus-djent resonated bigly with audiences across the globe and triggered a shift in the collective consciousness of humanity.

Every action has an equal and opposite reaction; we saw the trillionaire tech overlords from the year 2179 unleash a torrent of schemes to prevent the trio from creating world peace. Thankfully, not a single mission enacted prevailed, including multiple attempts utilizing the Ol' Dirty Wizard T-800.

Unsuccessful and defeated, the overlords in the Wealthy Entitled Fartsniffers faded out of the picture faster than Marty McFly's hoverboard kickflip, leaving NPIII to continue their quest with 2023's triumphant return, "Wet Ass Plutonium".

We've yet to see what adversarial components the group may go up against this time, although the album artwork and some of the song titles provide some interesting foreshadowing: reptilians, sardonic cartoon bears, and angry mobs of anti-saxxers loom as potential obstacles for the triumphant supergroup. As uncertain as the future remains in this turbulent zeitgeist, one thing is for sure!Peace sells, so start buying!

Nuclear Power Trio is:
Supreme Drums: Kimmy
Tremendous Guitar: Donny
KGBass: Vladi P

Follow the leaders:
https://www.facebook.com/nuclearpowertrio
https://twitter.com/NuclearPowrTrio
https://www.instagram.com/nuclearpowertrio
https://www.tiktok.com/@nuclearpowertrio
https://youtube.com/channel/UCg9DgejBs8pgl2tKzIw9QNA
https://open.spotify.com/artist/1ehBmvzykgp3Il0BUIZdev
Source:
Metal Blade Records