It is always a pleasure to have a past great band getting back with new material after so many years. As a thriving Metal scene, the revamping of the past is crucial in order to make a better present. The Canadian Metal band, Sword, once one of the prime champion of the once high rated Canadian Metal scene, is back with a new album, "III". Steinmetal had a good talk with the band's long time vocalist, Rick Hughes.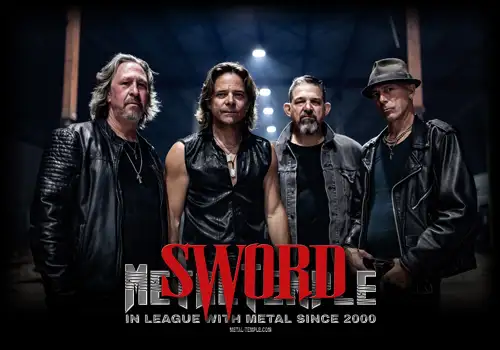 Hi Rick, it is quite the honor to have you for this talk about the resurface of Sword with new material, how have you been doing sir?
Thank you so much for the show of respect, it feels good to be back. I've been keeping in shape, vocally, mentally and been patiently waiting for this precise moment.
You guys were back in 2011, and only after more or less a decade since your return to the Metal scene, you guys unleashed new songs, and later on those became an album. Really, what took you so long? Most comeback bands usually drop something new rather fast, but you did the opposite, you took your time, how come?
When it came time to regroup, we started with the live performances. This took us to another level and the fans kept asking for new material. Because of the good connection with the fans, we've decided we had to oblige and to work.
Since the last new songs that you released, prior to the new endeavour, formed your sophomore, "Sweet Dreams", how did you bring yourself to think about something new after so long? There is a connection to the previous question, yet this one focuses on the state of mind mostly rather than the timing. 
The state of Mind came naturally, we were carried by a wave of enthusiasm from the live shows.
The new album, simply called "III", which is pretty obvious as it is your third album, so it was no brainer there, it multifaceted in a way. And I am talking lyrically first. It felt to me that you had to unload a lot of stuff that was on your mind. What can you tell about what is going on throughout the album, especially when it comes to your thought patterns that influenced the lyrics?
Sword lyrics have always been a teamwork and a work in progress. For instance, on this album, like on our previous albums, we carry the torch of those who don't have a voice. In a "We the people" sort of way.
Continuing with the same context, in your opinion, other than the fond memories song "Unleashing Hell", which is a tremendous nostalgia by the way, how relevant in lyrics are the songs on "III" to our present day?
They are relevant in every way, even "Unleashing hell" about the 80s. Just think of it as a traveling time machine, for those who need a little nostalgia.
Keeping it simply also with the artwork of the album, yet without the might of the 80s, in particular your debut, "Metalized", what does this crossed heart represent in your view?
It's the three Of Swords Tarot Card. The Three of Swords shows a heart pierced by three swords, representing the pain inflicted by words and actions. The ray of light gathering in the background mirror this pain but offer the hope that, just as the storm clouds will disappear, so too will the pain and hurt you are experiencing.
To say that you stuck to your guns might be true, but not entirely. I believe that with "III", you brought in a dose of aggression and groove to the music. And you also sent the message of your past influence, especially from the 70s, you have a great example of a song for that on the album. In your perspective, is "III" the next stage of Sword or rather a sweet reminder of a past that came alive?
The music, the melody and the lyrics are always a sign of the times. We went with our hearts, and our heads.
I believe that one of the best things about "III", and Sword in general, is that you came back with the same lineup. After so many years, when it comes both to songwriting sessions and ideas, along with chemistry within the band, it looks as if these were preserved on ice and you just returned as if nothing happened, continuing the band's efforts after "Sweet Dreams". How can you explain it?
For starters, my brother is in the band. Mike Plant, and Mike Larock have been high school friends and music mates since 1980. We live nearby, we've always stayed in touch and we worked with each other on other musical projects.
Running through the tracklist of "III", are the songs new or are there rather old tunes that were converted, or re-written, in order to be released?
A little bit of both, Mike Plant is the main songwriter of the band. We start with Mike's Riffs. Once we have something good going on, I find a melody. And so, we work as a team.
I noticed that you released "In Kommand" back in 2020, from what I could tell, it was a token for the fans since it was after two waves of Covid, if I am not mistaken. However, after you signed with Massacre earlier in early 2022, the name was changed. Was it only a name change or rather a different version of the track?
It is the exact same song.
Let's get back to the songwriting, we talked about the chemistry between you guys, and of course the writing of the songs, but let's get into the latter a bit more. What can you tell about the writing process? How did it feel to come up with new stuff?
It came very naturally. It was a very pleasant process and I'm pretty sure we'll do it again.
A little general question, once the Metal from Canada was the thing, there were even several compilations of Canadian Metal from the 80s that were supreme. It really got a lot going back then, great bands and music of course. In your view, as a Canadian band, is there a way back to the glory days or the sign of the times tell otherwise?
Being an artist is a very scary thing these days. Only the strong survive. Luck can carry you a bit, but once you run out of it you have to stay strong, mentally and emotionally for the rest of the journey.
One of the album's heaviest, and grooviest to a certain extent, is the masterful "Dirty Pig". This is a really strong song, both musically as mentioned but also lyrically. It appears that you are pissed there, and the aggressive side of Sword shows itself quite well. What is your appreciation of this track? How does it stand out?
Songwriting is always a teamwork for us. Mike Plant riffs gives us the directions for the songs melody and lyrics. This particular song made me work till the very last day of studio. I was so enthusiastic by the musical performance of the band that I kind of redid my melody three times before I got it right.
The second song, which is no less heavy than the previous, is the shout out for the heydays of the band, in the mid 80s, "Unleashing Hell". This one is something else, it really gets the listener into the look and feel of those earlier days. Any fond memories that you care to share? What is your take on the track, how does it reflect the era for you?
The song tries to take you back then, to let you experience what we went through. Back in the days Sword was on top of its game. We were invited by Metallica, Motörhead, Alice Cooper to be the opening act on their tour.  We did it, and we made our place in the hearts of many Metal Fans.
Looking forward into the not-so-distant future, you have probably started planning, or executing already, to support "III", how does your schedule look for 2023?
We've already started a tour back home and if we get some decent offer to travel abroad, we will come and please our fans.
Now, with "III" other on the market, have you already started wondering about a new record? Perhaps sharing new ideas to get things rolling and not after so many years?
We do have some ideas for the future, but we concentrate on the present moment, and we let "Sword III" take us wherever it's meant to go.
Rick, it was amazing to have you, Sword left the scene after "Sweet Dreams", that was quite bad, but I am glad that you are back, keeping making that good music. Cheers
Thank you so much for your kind words and for your precious support.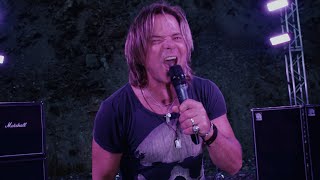 When clicked, this video is loaded from YouTube servers. See our privacy policy for details.