Giorgia Colleluori
IT'sALIE
Such a complex thing is the heart, right? And if you thought that the brain is mysterious, as we have yet to use most of its maximum capacity, the heart has a lot to offer, as the harbour of emotions. Exploring in depth, and taking care of the music to fit to the right scope, there is the Hard Rock / Heavy Metal foundation of IT'sALIE, led by the highly talented singer, Giorgia Colleluori. This time around releasing "Emosphere", Giorgia and Steinmetal had a lot of ground to cover to understand the new record better.
Hi Giorgia, it is awesome to have you again for another talk about what has been going on within the IT'sALIE camp, how have you been doing?
Hi Lior, thank you so much for having me once again, it's such a pleasure! I've been doing really good I have to say, since we released Lilith we never really stopped our activities, we jumped directly in the songwriting of Emosphere, and today we can say that we've also started our live shows. We're happy!
Last time we celebrated your debut album, "Lilith", which was an official embark of your musical journey of a band of your own doing. Since the period of the debut was a harsh one, right when the pandemic hit the world hard, were you able to support it properly in a way? If not live on a stage, maybe through live streams that a lot of acts used back in the day?
As you perfectly said we released Lilith in the middle of the pandemic, so we couldn't support on stage of our debut album, and we've chosen to not do live streams back then. We've preferred to wait and to hit the stage when it would have been possible again. We used the time that was given us, even if not asked, for focusing on our new songs and our next album which is now known as "Emosphere". But finally, now the time has come, and we have some shows and festivals planned for this Spring and Summer! Can't wait to meet our fans all over and having some real fun on and off stage!
Talking about the pandemic, with all the lockdowns going on, and numerous restrictions, I guess that it was time well spent at home, writing new material, wasn't it?
You nailed that one, as just said we've really used that free time for working on the new songs, it was really helpful to have some time just for the songs and not having any hurry.
Recently, right at the end of 2022, you released your sophomore album, "Emosphere", continuing your close relations with the Greek / German label, Rock Of Angels Records. Following the emotive manner of "Lilith", it seems, judging by the title, that the emotional end of the new record is more than highly noted. What is your take on that? Is the title short for emotional atmosphere?
Actually the title, the cover artwork and the lyrics are related to each other . The whole album is about the same concept, emotions and mind, the heart and the brain, and of course the importance of finding a balance between all these elements of ours.
"Emosphere" is the sphere of the Emotions. The heart is the centre of the emotions, right? But without the brain, the thought brought to consciousness, we would always be at the mercy of the emotiveness. The emotion needs to be understood. The center of the emotions is the heart, often a red heart. In this case, the heart is black, and the surrounding is dark red, which is usually passion's color . The black heart represents the hope that one day there will be a humanity with the capacity of harmonize the rational thinking and the emotions, a heart understood by the brain, and for this reason, even more powerful.
Since you were the main lyricist for "Emosphere", what can you tell about how do the lyrics express you, and what you have been going through, or perhaps the examples that you share with the listener?
What I experience during my lifetime, the ups and downs, the emotions brought to consciousness are fundamental for what I later translate in words and melodies too. I have been through some inner wars and I've seen for the very first time some demons who were living inside of me silently. To learn to embrace them and working not against them but along with them has been a huge inspiration for the lyrics of "Emosphere". The spiritual world is what inspires me the most, inside and outside of me.
As stated, "Lilith" was also an emotional ride through a soul, nonetheless, "Emosphere" takes on a much stronger hold spiritually. What can you say that are the main differences between the two records on a conceptual level? Is the latter simply a continuing chapter or something unordinary entirely?
I'm writing about what I'm living while writing the lyrics, there is a main concept as explained before, but I'm always writing about what I can say about it, I can't talk about something I simply didn't live. My inner work has improved a lot since the "Lilith" times, so I would say that "Emosphere" is more a continuing chapter than something totally different, even if my awareness is way more awaken than the past years.
In your view, what is the strongest feeling that is being channelled through "Emosphere", is it on a positive note or rather stating falseness or negativity?
I would say that the feelings more expressed in Emosphere are the fear that laid before the loss of the control and the real freedom that grows from a spiritual life.
While maintaining the Hard N' Heavy direction of "Lilith", I believe that there is a more direct, and even harder at times, approach to the happenings on "Emosphere". It portrays a lot of conviction and straightforward nature in contrast to the debut. What can you tell about the musical journey that went through the new record?
We are defining who we are, and in this album is even more clear in comparison to the debut album. In "Lilith" you can already listen (in particular in some songs as "Wind", "Lilith", "Ghost" and "Lost") our original sound and our own way of feeling and writing music, but in this next work I think we developed it on every side.
As you perfectly noticed "Emosphere" sounds even harder than "Lilith", and I'm pretty sure it happened because this time we were mostly by our own, so our musical expressions had no barriers. We started to write the new album during the lockdown, the guys in the band were proposing riffs, songs, I was working on the melodies and to a song that had been born as only piano and vocals and now it's called "Moonchild". So, we were expressing ourselves in every direction. Then we started to select what was good enough for us and really working on the arrangements, lyrics, melodies, ecc ec.
I am really proud of "Emosphere", especially because this time we really worked by ourselves as a band.
When it came down to the songwriting, it was yet another successful collaboration with Mat Sinner. Last time we talked about Sinner's experience and influence on the songwriting for "Lilith". This time around, with the experience that you gathered from the last run of the debut, did you feel that on "Emosphere" it was more you as the independent writer that needs less guidance?
Absolutely yes, we worked mostly on our own, Mat had anyway an eye on the overall work, but this time it was really time for us to take the risk to work on our own and really realizing who we are as a band.
Even though your voice carries that Blues vibe attached to it, which is simply amazing, "Emosphere", as I mentioned, feels a lot more Metallic than the previous. In regards to the influences that you carried with you while the songs were vocally composed, what were they? What was the biggest impact on you?
First of all, thank you for all your nice words, I'm really happy that you liked it! I grew up with the big Hard Rock and Heavy Metal bands from the past, but I had some bands and singers that had a bigger impact on me: for sure Robert Plant, The Cult and Ian Astbury, Ozzy Osbourne, Jorn Lande, Anouk, Janis Joplin,… and many more.
Following the different atmospheres that "Emosphere" sets for the listener, what can you tell about the cohesion with the musical end? How does the written music meet with your vision of what the album should express?
The truth is that we didn't have a clear vision of what the album should have been, we just followed our inspiration, we just let it flow, you know what I mean? To me everything sounds coherent because songs, melodies and lyrics have been born in the same moment, we're really satisfied with the final result.
Alessandro Del Vecchio, which has been known for his works for Frontiers Records, and also as artist himself, made wonders for "Emosphere". There is that powerful Rock crunch to it, and it also emphasizes, with finesse, your versatile vocal lines. What is your take about how the record sounds? How did this sound direction meet your expectations?
I'm incredible happy with the amazing work done by Alessandro on "Emosphere", I think he really understood what we needed, he perfectly emphasized my voice as you said and all the other instruments as well, you can clearly hear each instrument without losing the overall view of the song, the final mix by far surpassed our expectations.
I decided to start with Pat Benatar's "Heartbreaker" as the first tune to talk about. I think it is a masterful example of how to make a swift Hard Rocker, nothing to hold back, simply kicking it hard and tough. In a way, I found it to be that Blue collar, street gang song with a little twist. What can you tell about the track, and your impression of it?
In the first album we did our version of the big classic "Barracuda" from the Heart, we wanted to have another great song from the past in our new album, so we have chosen "Heartbreaker" from Pat Benatar. It's a real classic and we love that song, so we decided to do it in our own version. We listened to the song in the rehearsal room three times and then played it directly. It worked immediately; it seemed like it was composed for us. We love it so much that we also play it on stage!
"Beyond Revenge" is where you dug a little deeper, not disclosing everything all at once. I felt that it needed more than a single listen to comprehend its nature and impact. It is hard to the bone tune, strong heavy rocker with a vocal line that is a picture of might. What can you tell about creating the song?
You're absolutely right, it needs a few listens to be understood. It's a song mainly composed by Simon Dredo, and it is a really heavy rock song as you perfectly said. The composing process basically started with the basic idea of Simon, which passed through Camillo and Raffaello's hands for finally coming into mine! I had to work a little bit harder on the chorus to finding something which was convincing from my point of view, and in the end, I can say that I'm satisfied with the melody of Beyond Revenge. I think the guys did an amazing job as always.
Lastly, there is the balladry, because you just can't live without them, I guess. You already proved yourself as an amazing singer in ballad driven songs on the debut. When it comes to the clincher, "Million Years", it is filled with soaring emotions, also tears, and to be honest, it touched me greatly. What can you tell about the general feeling of the song as you see it?
Thank you once again Lior! I think that "Million Years" is one of the coolest song of the album too. It was born from an original idea from Raffaello Indri, our guitar player, and after some listens, I recorded the melody in my little home studio. I think that as you may have noticed the song has a cool crescendo of emotions and intensity, growing from a "melancholy introspection " vibe to a real ray of faith, it was really born as a stream of consciousness on the melody side. I'm really happy to hear that it touched you!
Now, with the ability to actually support an album out there on stages, what is your plan going forward in 2023? Maybe joining Mat Sinner as support for Primal Fear / Sinner efforts?
To support Sinner or Primal Fear would be such a great thing! Never say never! We have actually some shows and festival planned for this Spring and Summer, we really can't wait to be back on stage! After these shows we will jump directly in the songwriting of our third album, we have already some ideas growing here and there.
Giorgia, it was a pleasure to mine to have you again, it was glad that I was able to catch up with another IT'sALIE album, and it was way worth it. All the best
The pleasure is all mine Lior, thank you so much for the great interview and the amount of kind words you had for us. Can't wait for our next talk! All the best, Giorgia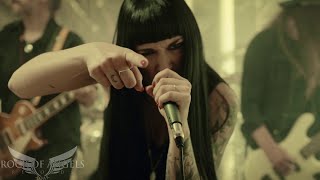 When clicked, this video is loaded from YouTube servers. See our privacy policy for details.