Big Chris Flores
Lynch Mob
LYNCH MOB is one of the many projects George Lynch has worked on over his four decades of performing. Each different band has a different feel. His solo material is more artsy and ethereal, while still being Hard Rock, his work with KMX tends to have a bit more Progressive and Nu Metal in there thanks to dUg Pinnick and Ray Luzier. Here, you get old-fashioned Hard Rock with a flair for melodic passages and some bluesy riffing as well. And as always, you will have the inimitable George Lynch signature guitar sound to caress your ears and drop your jaw.
By Kevin Lewis
•
June 12, 2023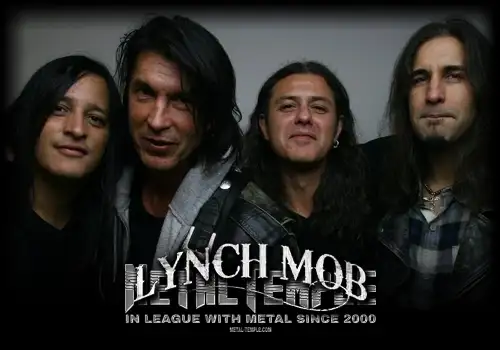 What is the difference between this LYNCH MOB and the past iterations?
Chris Flores – Besides Lynch and D'anda, the band is a little younger and the production on the album is quite different than the 80/90's sound that everyone loves, which could be a good or bad thing. We'll see. The drum sound, production and all the stacked (QUEEN-esque) style vocal harmonies are what make this album stand out compared to the other LYNCH MOB albums. There's lots of fx, and cool edits within the songs. You'll hear a lot of stuff that LYNCH MOB hasn't done in their productions as of yet.
What does Gabriel Colon bring to the band that none of the other vocalists have?
CF – Gabe is a cool dude! I had fun with him in the studio. He's got a great ear and very interesting voice. Not intentionally, he has almost an Axl Rose vibe to his voice and its not so polished such as someone like Oni. He was easy to work with. He's a great front-man and his voice is excellent live. He also brings youth to the show. Not to say Lynch or D'anda act or look old on stage, he just brings a youthful energy to the band that will hopefully attract some of the newer generation of rockers.
Is George Lynch a one take kind of recording artist or does he paly the section repeatedly until he (and you) feel it's "Perfect"?
CF – George is very spontaneous. You better be recording at all times because sometimes he does some shit (with his sixth finger) on the guitar that surprises the hell out of him too. And it might be perfect. In that case, we would reference the badassery he just recorded and double it for a section of the song. In other instances, I would just play the drums on the keyboard, hit record and watch him jam. Then, cut up the jam into verse/ chorus/bridge sections. It was always some sort of a jam. Usually only a few takes.
What is the baseline genre of this record (Hard Rock, Desert Rock, Glam)?
CF – Definitely Hard Rock. Some very melodic, positive sounding songs to dark/evil and majestic sounding jams, some bluesy. He tried to vary it. He would send me links to songs from various bands in different genres and I would come up with a temp drum feel using the tempos and styles so he could jam out the next session and see what happens. It worked well. We did 10 song ideas in 8 days.
Are there plans to tour on this record?
CF – LYNCH MOB is doing shows throughout the US at the moment and probably all summer. I haven't heard of any shows abroad at the moment, but the Summer is gonna be busy I'm sure.

What motivated George to start from scratch with an all-new line up (except Jimmy D'Anda)?
CF – There's a cool method behind George's madness. He's gotta very young disposition on and off stage. He wants as little drama and as much fun as possible . This line up with Jaron Gulino on bass and Gabe on vocal is a no hassle, hungry and motivated and not to say the least, FUN group of guys to hang with or watch.
Does LYNCH MOB prefer to work together in a studio or record their own pieces separately and let the magic happen on the back end of the process?
CF – In a perfect world George wants to have the whole band together in a bigger studio jamming and recording. There's usually no better way than that when it comes to recording (especially) hard rock. But unfortunately the budgets aren't amazing and the budget gets eaten up pretty quickly, so its not always possible to do this. For this LYNCH MOB album George and I recorded his guitars at his spot, sent the arrangement over to D'anda and Jimmy would send me back his stems so we could send that over To Jaron to do bass. During this process me and Giancarlo Floridia would go over lyrics and melodies for some of the songs. Some songs we would write on the spot during the vocal sessions with Gabe.
What was the hardest part of the process for this record (recording, mixing, mastering)?
CF – The production/mixing was a little difficult for obvious reasons, but the biggest pain in the ass was not being in the same room to listen together. I would have to send everyone rough mixes and then wait for responses. Lots of texting and emails. 3 months of them!
Can you (legally) divulge the working title for the next release or give a projected time for release?
CF – As far as I know (from Gabes IG post) they finished the 1st video for the 1st single "Time After Time". The album "Babylon" comes out in the fall so I presume late summer, the 1st single will drop if all goes well.
Are there any instrumentals on the album that feature a "signature" George Lynch solo?
CF – There's no instrumentals on the album but there's a long ass solo on cut #10. George shreds over every song though. There's no one that sounds like George. He signatured that whole album!
Does he have a proper Power Ballad on this album?
CF – Yea, "Million Miles Away" is a very powerful, majestic sounding ballad with huge reverbs and tons of stacked background vocals that I sang. This is probably the most modern song (as far as production goes) on the album. There's only 4 chords repeating the whole song (like most modern pop songs). The vocal melodies and vibe along with stacking other sounds, creating drops and effects creates the sections as opposed to doing a chord change for the chorus or bridge. This is a very refreshing ballad. I hope the LYNCH MOB fans will dig it …at least appreciate it for what it is.
What kind of tunings can we expect to hear on this album?
CF – George did some minor tuning adjustments and used his baritone guitar along with drop d tunings but nothing out of the ordinary. It was just one of those days, walking in and deciding what key he wanted to play in today.
Does George dip into any of his Neo-Classical influences for this record?
CF – No thank god! I mean, He's gotta couple Yngwie Malmsteen-ish licks on the album. Lynch sticks to what he's pretty much always done and does it very well. The dude shreds without a doubt. He has fun doing it for sure.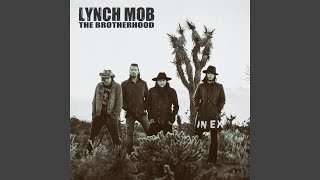 When clicked, this video is loaded from YouTube servers. See our privacy policy for details.
Interview by Kevin Lewis