Bert "Beef" Hoving
Written In Blood
Even with being busy, especially if a musician is involved, music, or to be more accurate, the creative mind, might be driven away from a state of mind but only until a certain point. There are countless examples of musicians that life dictated something else for them, only to return later re-kickstart their past into a new future. The same was for Written In Blood's Bert Hoving (ex-God Dethroned), by forming the new band. Recently releasing their new album, Bert and his mates are out for war, with bloodied Melodic Death Metal at their side. Steinmetal had a talk about the new album, with a wish to find out as much as possible.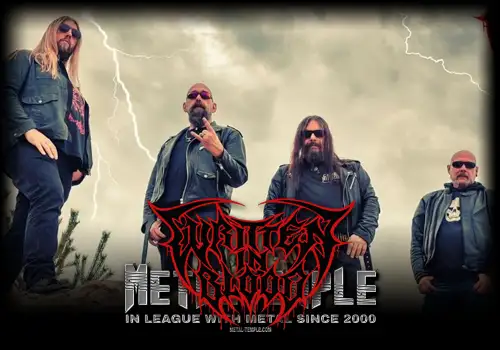 Hello Bert, it is good to have you with me for a talk about the latest news coming in from your rather new band Written In Blood, how have you been sir?
Hello Lior. Thanks for inviting me for an interview. I'm doing well thanks. I have been out of the scene longer than wanted for some personal reasons. But blood is thicker than water, so I'm back.
With Written In Blood being a fairly new act, even though most of your gents are experienced musicians, what can you tell about its formation? I know that you have been out and about after departing from God Dethroned earlier on. What was the basis for the formation of the band?
I had the idea to start a new band already for a couple of years. I kept pushing it ahead all the time because of a busy well-paid job for which I travelled a lot and some private issues. At a certain point it was enough, and I just called some old mates and asked if they were interested to join in on this new band. With two of them I played already in a band before my time in God Dethroned. That was with Jos and Marcel. Jos is a very experienced drummer who played in bands like Vortex and Mandator. He is a very steady base. And Marcel is a consistent rhythm guitarist. So, I knew this would be a good fundament for a new band.
No doubt that the timing of the band's formation was needless to say awful but, if you can laugh about, it a little, a weird kind of coincidence. From your perspective, was that a sort of a sign, if we are going spiritual with this?
When we adopted the name Written in Blood as band name, the covid pandemic struck the earth. This is of course meant as a joke or a piece of text to trigger the attention. But I read a comment about it in a review where the thing was ridiculed as if it was meant seriously. I had to laugh about that one for sure. For me, the pandemic had not a bad impact actually. It gave me time to write songs. I wanted the band to be ready to play live whenever this thing was over. The downside of it was that bands could not play at all and as soon as the restrictions were gone all those bands had to make up for the missed gig's. And we as a newcomer are at the end of the line. But our time will come.
In regards to your picked band members, was it a sort of a random call for friends to come join in or did you simply know which people to contact that would fit your vision?
The last. I knew who to ask, and from Jos our drummer I already knew he wanted to join in because we already spoke about it before. The difficult part was to find a decent lead guitarist. After some time, we found a guitarist, but that didn't work out that well. He was a nice guy to work with, but I expected a little more dedication. Then we found a stand in 2 weeks before a gig we played in Germany as opening act for Toxik and Heathen. Ronald Reinders (Overruled) had to learn the songs within 2 weeks, and he did a great job. Only he didn't want to become a steady band member. So, after a while it was the same Ronald who gave us the tip that Jeffrey Zwart was willing to fill in the open position of lead guitarist. A bit of bad luck for Jeffrey that we just finished the recording and mixing of the album. So, all the solos you hear on the album are done by Ronald.
Talking about the ideal vision, what a sort of image were you thinking about for Written In Blood?
When we started there was not really a vision about an image that we wanted to have. A couple of idea's passed by. The first lyrics I finished was for the song Germanic. This is about the slaughter of 3 Roman legions in Germania. And since the part of the Netherlands where we live was also Genanic territory, the idea came to keep the lyrics and image it a bit in the heathen/pagan corner of the spectrum.
Signing up with Trollzorn for your self-titled debut album was a wise choice no doubt, surely the rightful home for your release. What do you make of this new label for Written In Blood? What are your intentions with this signing?
With our 4-track demo finished, I started contacting record labels. I wrote to many labels actually. In the end, 4 of them were interested to do a release of a full-length album. To be honest, I had never heard of Trollzorn records before. And they were actually the last label I had sent a demo song. Trollzorn responded very quickly to the email. The trigger was the song Germanic. Because where the whole slaughter of the roman legions took place is in the area where Trollzorn is based. The guys from the label are very interested in this subject themselves, so there was a click right away. The intentions with the signing…. to promote Written in Blood as much as possible and build on from there and to do as many live gigs as possible. From there we will see what happens. Of course, the plan is to do a next album. But let's see how we do with this album first. The reactions from the media are very promising I must say.
Judging from the overall nature of the album, along with the foreboding artwork, there is a vision of the brutal identity Christian inquisition of the pagans, those who would not turn, will meet their deaths. Why was it important for you to emphasize that particular era in time through the album?
Because the so called "holy church" is guilty of killing many innocent people. And this all in the name of some crucified barefoot prophet that never walked this earth in the first place. And the worst part…. they are still busy spreading this lie!
Let's take "Written In Blood" to our present, in your view, have we, as people, a worldwide populace, evolved since those dark days? If not, is there still hope for us to overcome the extremity, in particular where religion is involved?
There is only one answer to these questions. No! Especially not concerning monotheistic religions.
Going back to the artwork, other than the physical graphics, which pretty much tell the tale of what is going on, what do you see yourself in this image, and not only on a literal basis?
Actually, there is nothing behind the artwork. What you see is what you get, so to say. This is what the church literally did to people. And I think the image is not even undue compared to the real situation. We contacted Rotted Artist to make some artwork for the album after we had asked someone else before that. But that didn't work out well. A few ideas were offered to us. And I was asked what I had in mind. So, I put something together from screen shots from the web. After a few day's they came back with this image. I thought it looked pretty brutal, so we kept the idea as the album cover. Then in the end Marcel came with the idea of turning our portrait pictures into zombies for inside the booklet.
Taking on the melodic essence of Extreme Metal, Written In Blood surfs through a variety of the old school forces. Whether through Melodic Death Metal, with tinges of blackened Doom, and with fierce lead guitar exploits of the classic Metal naturality. The album therefore quite varied. In contrast to your previous efforts as a musician, how do you find your personal progress on Written In Blood?
I'm very satisfied how the whole album turned out to be. I wasn't very active as a musician for a long period of time. And for sure not writing songs. I had at least a clear vision about the songs. I like songs with a good structure. And it was a puzzle every now and then to get things how I wanted them to be. Other songs came almost by themselves. Good to hear that you mention that the album is quite varied. I share this opinion. Although after writing, recording and mixing the album, you lose a bit the realistic view, so to say.
The songwriting on the album is also diverse, offering the urges for the hook along with straightforward onslaught that leaves no doubt for what is coming. What can you tell about the songwriting sessions? What were the prime influences that took you guys on?
When I started writing songs, I had not really a vision of how I wanted it to sound. The plan was, death metal and I wanted melody in the songs. That where the two things that were clear to me. From there I just started to write with not a particular band or sound in mind actually. When I write I prefer to just start with a riff that I have in my head, and from there on comes the second riff, that is to me at least the logic follow up from the previous riff. I very rarely take a riff that had put away as "possible idea" and implement it in another song idea. It's just the way I work. Probably others do it in a totally different way. For this album I have done about 85% of all the writing. Witte Wieven is an idea from Marcel. He gave me the basics of the song, and I just had to put some melodies and lyrics on it. This song has a little of a black metal vibe and it turned out to be a very nice one.
There is a saying in the dossier that I found interesting, that some of the songs were born, or better stated, conceived in unholy hours. Can I guess that these were created at nighttime or in awkward moments? What is your take on that?
Some songs were indeed created at unholy hours. When I'm writing, then sometimes I forget everything around me. So, it can happen that I come out of the "trance" or however you want to name it, at 3 in the morning or something like that. Then crawl into bed where you can't sleep because the song is constantly in your head.
What can you tell about the later endeavours surrounding the process of "Written In Blood", meaning the rehearsing and recording of the album? How many songs found themselves to be altered, changed in such a way that their initial version was utterly different?
The thing is that we don't write songs in the rehearsal room. All songs are already completed before we start to play them with the band. What is altered in the rehearsal room are the drum parts. At home, I write the songs with a drum program, and with this I set out the lines for Jos for double bass parts and tempos for example. But I'm not a drummer and if he has a better idea of how it should be played, be my guest. The other thing I try to keep myself from interfering are the solos. On the album is only one solo that comes from me. The rest is done by the guitarists.
One of the album's prime hymns, an extreme Metal anthem no less, is "Heathens We Are". I can't remember the last time that I found myself listening to such a Death Metal song that made me sing-along with. That is quite an achievement. I bet that it would be part of your setlist for live purposes. What can you tell about this song?
Ha, good to hear you like that song. Yes, we play "Heathens we are" in our live set. It depends a bit on how long we get to play. In a short set we skip this one mostly. This was one of the songs that was born pretty easy. Also, the lyrics didn't take much time to write. Because after all, we are all heathens, aren't we? We get a lot of comments from people who also find this a very nice song. Personally, I like the melodic ending of the song.
When it comes to the rightful hooks of melodies, there is the opening shrapnel charge, "Slithering Snakes", sharing an intro provides enough clues about the next step. Sailing through sorrowful melodies and Heavy Metal crunch, there is a lot to go for on this song. What can you tell about its creation and its impact on the record?
Slithering snakes is about Bonifatius, the priest that came from England to Christianize Europe.  (The bastard!) The spoken words of the intro were actually a test for a new microphone I just bought. Microphone check, take one…. This was the first try and the words just came by themselves. I kept it, and we used it on the demo as well. So, this intro is exactly as it is on the demo. Like many people might know, the church and these priests forced their idiotic lies upon us. And until today there are still so many people who believe these bullshit lies. The priest finally was killed not very far from where we live here in the Netherlands. But too late, like I mention in the lyrics. They should have done it as soon as he set foot on land.
About the music. With the opening riff I tried to imitate a slithering snake. Now some people might think that I'm nuts. But this is how the idea for the song started in my head. From there on I built on to the next riffs. The melodic end part turned out very nice, I think. But I don't know if this song has a different impact to the album than the others.
There is a talk about the next festival season coming up this year, what are your intentions in regard to rampage stages to support the record? Is there also a plan for a local Dutch tour as well for additional support prior to the festivals?
We are working on it. It's not very easy to get foot between the door at festivals for this summer. Mainly because many have their lineup already completed. And still there are some symptoms after the covid pandemic, I think. Bands who had to cancel are now first in line to make up for the lost gigs. But we keep on trying of course. Hopefully, very soon we can give some good news to the people that want to see us play live. There are things under construction, so to speak.
With the debut album out there already, are there thoughts about the next in line release? Have you started gathering ideas?
Yes, I have roughly 4 songs finished for the next album. There are some song ideas not used on this album, but they can very well be used for the next one. My plan is to try and deliver the second album as soon as possible. But with many other things to arrange it might take a bit longer than I had in mind.
Bert, I wish to thank you for your time for this interview, it was good to have you and to get to know Written In Blood a little better than merely the music. All the best to you and guys. Cheers.
Lior, thanks for the interview, and maybe we meet somewhere at a gig in the near future.