Alejandro Velazco
Freeroad
Being varied, even in Metal or Rock music, can get you places. Not mainly to be booked to a lot more venues, but to actually express yourself musically in different ways other than in a singular pattern that might be great but also limiting in a way. Taking chances, and doing it old school, but with a sense of diversity, there is the Mexican band, Freeroad. Writing songs by the old book of vintage Metal, along with sprites of Hard Rock, is what they feel and what they do. With the release of their debut album, "Do What You Feel", Steinmetal had a good talk with the band's Alejandro Velazco about the experience.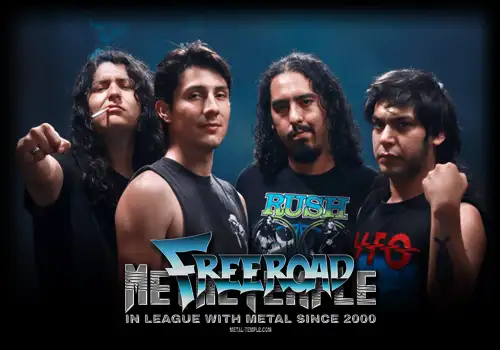 Hello Alejandro, it is good to have you for this talk over the latest going on in the Freeroad band, how have you been doing?
Hi Lior, thank you so much for having me. I'm doing fine, I hope that you're doing fine as well.
Freeroad is rather a new act in the world of Heavy Metal, certainly a time traveling type of affair for vintagers, yet also for every Metal, or Hard Rock, fans that can appreciate the old days. Let's start with the formation of Freeroad, how did it come to pass? What led you to unite under the flag of the proto-Metal age?
We start the band around the 2018, at that time I was making another band (Lonesome Trail) with Eli (bass) and Daniel (drums) having good times in the rehearsals with friends, one of them was Ramiro (Guitar), I meet him and I found that we both were in love with the NWOBHM genre.
From then, we start thinking on doing a project under the influences of the bands that we love like UFO, Wolf, Universe, Bashfull Alley and many others. We went so in love with that kind of sound that quickly we begin to work on the Freeroad project finding our times to match and rock it out. Ramiro introduces me the first riff of the first song that was Do what you feel, then I start to develop the remaining song and we found an excellent workflow.
After we release a Demo of Do What You Feel, we saw that a lot of people enjoyed that song, so we decide to put all the workflow on the Freeroad's album, making a pause with another band, Lonesome Trail.
With you gents being young folks, what do you find in the musical vibe of the early age of Metal music, which became Traditional Metal later on, as music fans? What did you recognize in the music that drew you to actually create material based on it?
We found in this music a lot of motivation and a true music feeling, it helps us to find our way not only on the music life but in the real life, keeping us inspired to deal doing our passion that is the music.
The spirituality of the band's name, I believe that it became an even stronger reality over your recently released debut album, "Do What You Feel!". I could say that there is that 60s vibe of expressing yourself, yet there is also a form of modern liberalism to it, making a fine mixture of eras in society. What is your comment about that? What do you make of the title yourself?
It's good to see that you're getting our influences, we prefer and love so much the old music, the best time of the mankind on music! We believe that Freeroad was the better name for the band because we weren't looking for making metal in a single way, we choose to make songs with certain variation on each other, with a sound like it was coming from the past and making mix of jazz and funk in some songs, which has fitted perfectly.
There is a vibe of ease going on throughout "Do What You Feel!", yet I believe that there is more to it than that. What can you tell about the essence of the record, while exploring the lyrical end? What are the main themes that are being introduced to the listener?
The essence of the record it's to bring back to the old times of the new wave of the heavy metal, also giving a positive lyrics for the strikes of life between your passion and your real life situations, making clear that no one can't stop you from making your passion and dreams real. The main themes that I consider most important are Do what you feel, Rock Chaser, Moving on, The psychonaut and Twilight Row.
From your point of view, how much of the vibe of "Do What You Feel!" is either feasible or realistic to that matter in contrast to our present day and age?
I believe that you can do what you feel in the artistic sense. But because of what we are living in this hell of a world right now with so much confusion and a lot of "Don't do this!"; Doing what we feel could be a problem with society, so I guess that if you are feeling only the good actions for being a better person could make true the "Do what you feel" concept in real life. The point is to feel and make only good things and ignore the evil ones!
When it comes to what can be taken as a message by the listener from "Do What You Feel!", which forms of morals can be inferred from the record by the listener?
The morals of the Do what you feel song are to keeping you strong enough to make real some of your passions, call them Draw, Music, Dance, any kind of art that fills your heart and your essence, don't try to imitate at all just the required influence of your taste, make your own way and keep it clean with only the touch of your soul, many people need to figure it out that the music its wise and a huge healer if you hear with respect and love.
The artwork of "Do What You Feel!" is somewhat hilarious, but on a serious note, it expresses that everything is possible, even jumping naked on a highway, because you can just do it right? Other than the vision of freedom behind this art, what is your comment about that? What is more than meets the eye?
Hahaha yes its funny to see Ramiro jumping naked on a highway, so bad I missed that photo session but they nailed it!
Ok, there is a naked guy jumping on a lonely highway, but what if we put him on a concurred avenue? Realize that some of the things that makes us happy, makes angry to others and we need to considerate the value of the action to not hurt ourselves and no one in any way. The loneliness most of the time is required to create your art, with naked soul. You can give a damn to that bad comments like "you're not going to make it" and jealous people because you being you is the best way to make your art. That is the meaning for me of this desperate cover art.
True to form, you guys are after breathing the air of the early days of Metal music, strong echoes of the 70s, even the late 60s, but with also a nod to the early 80s of British Metal. This fine blending made "Do What You Feel!" to be a vintage album, crossing a few lines. How do you find the musical foundation going on the record?
I find my music foundation long time ago when I was a little kid with my father giving to me a lot of 60's, 70's and 80's rock n roll so i grow with a lot of passion and desire to create music like that, its a style of life that i always wanted to do and now become real after a long of hard work and situations but remember, consistency will carry you on. Another fact is that I was blessed to know good people that have helped me in music and played with me, I thank to all the ones who have contributed in my music life and to the people who enjoy it.
When it comes to writing the songs, we have to start with the influences that engulfed as your minds were burning, due to brainstorming, to come up with the raw material. What can you tell in regards to what made you tick while the album was slowly emerging?
Well, at the moment when we write the songs we were passing through a weird time when we feel like we needed to shout loud our feeling and make more songs quickly. Eli and I wrote the first song "Do what you feel" together, taking the good from the bad moments, reflecting our goal in music. At the background of that time, we played a lot of Thin Lizzy, CSNY and Jeff Beck. Then we flow over making the other songs of the album with much ease, just finding our times to match and record because I begin to work on a company, but we found the way to finish the album.
The songwriting on "Do What You Feel!" did just square over the hooks in the song, but involved interesting riffs and song structures that made the overall feel to be more than your average vintage Hard Rock / Metal album. What can you tell about the course of the songwriting?
The course of writing Do what you feel song was really quick, we wanted to do it simple but catchy, we had to record it by ourselves so we stop rehearsals and went deep into the recording, and looking for that vintage sound that we would made
In order not to copy yourselves or others, I bet that you tried to find edges. What can you share about the challenges that rose while writing songs? With that said, what is that edge that you believe that you created on "Do What You Feel!"?
The challenge that I met writing songs with a band is that you have to organize the time to be with your band, it's like a marriage. Everybody should feel like one and try to make each member of the band count. If you can't be in peace and harmony with your band, it's going to be so difficult to work together, there has to be respect and consideration all the time, and a lot of love to the music that you are making.
The edge of the album it's that we need to move on searching our passion to grow it hard.
Preaching of liberty, and the freedom of the individual, how were you able to find the right connection between the lyrics and the music?
We were able to find the connection between lyrics and music checking each riff that we had saved until we found that the music was going on hand with the concept of the song, and that we try to make each song different, with the liberty of not doing only the same type of songs.
The sound of "Do What You Feel!" is pure old school, almost sounding as of a lo-fi analogue recording. The raw generated sound contributed to the album's approach and pattern, and it was for its benefit. What can you tell about the sound engineering of the record? Who was responsible and how do you view the end result?
The production of the album was in his majority by me, Eli helped me with some things, but was a fast production because at the ending of the recording I was almost with no free time and had to mix the songs with short time, although I loved it. We going to do better in the next productions.
Sliding in the utter hook in the brain is "Pray For The King", which I believe is a grand crowd pleaser and easier to join in a sing-along. This is a classic type of Hard N' Heavy of the 70s persuasion. What can you tell about the song?
Yeah, Pray for the king is a huge song! We decide to make that cover because it has all the references for our sound. It's a song of Midas Touch, a band from our city from the 80's. We talk to some members of the band and they let us make the cover of that song on our album, we give them regards and a lot of thanks for that music!
The ultra melodic flavor, other than being memorable, is the second in command, "Rock Chaser". For me, this is the album's finest, showing creativity over nostalgic type of riffs, and along with sound, a huge compliment. What can you tell about the impact of the song on the record, and how does it express what you have been trying to achieve?
Rock chaser is one of my favourites from the album as well! It's a story about a man doing what he feels in music, it shows the beauty of being constant on your passion and keeps in mind that the old music way it's a risky one if you want to be rich with money, but it's the best way to be rich in soul! I believe it's another kind of Do what you feel concept. In this case, chase what you feel. All in the art way.
Looking forward to 2023, what does your schedule look like for the purpose of supporting "Do What You Feel!"?
Right now we have schedule for two shows, one in April here on Mexico and another one on June in Colombia. Once we finish that shows we are going to release an EP with two songs, we hope you like it so much as we do!
Alejandro, thank you for the introduction of Freeroad, this is a great old school type freshener for, and I really hope that you will continue as such. All the best
Thank you so much, Lior, for spread the Freeroad music, I'm glad to answer your questions and I hope that we speak once again. All the best for you as well and for everyone who reads this. thanks to everyone for the support!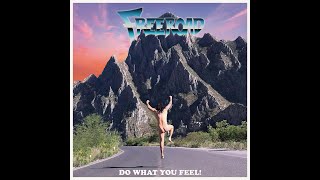 When clicked, this video is loaded from YouTube servers. See our privacy policy for details.